Optical Receiver provides high sensitivity.
Press Release Summary: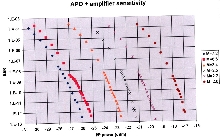 Model R402APD APD + TIA optical receiver, for 10 Gpbs applications, provides sensitivity of -26 dBm typical and is capable of driving variety of circuits, such as clock recovery, AGC or integrated time division demultiplexers. Module can be used in 80 channel/160 channel DWDM long haul systems, SONET/SDH systems, and telecom metro/short or medium reach systems.
---
Original Press Release:

APD + TIA Optical Receiver for 10 Gbps


Ewing, NJ - March 5, 2002 Discovery Semiconductors introduces the model R402APD, an APD + TIA optical receiver for 10 Gbps applications. Providing extra high sensitivity of -26 dBm typical, and the flexibility to drive a variety of circuits (i.e. clock recovery, AGC or integrated time division demultiplexers), this module can be used in 80 channel/160 channel DWDM long haul systems, SONET/SDH systems, and
telecom metro/short or medium reach systems. Delivery is within 4-6 weeks after receipt of order.

Note to Editors:
1. Attached is the sensitivity curve in GIF format as well as the eye diagram in TIF format. We can supply additional data and images upon request.

2. Press contact: Doug Malchow, Director of Marketing at (609)-434-1311 Discovery Semiconductors, Inc. 119 Silvia Street, Ewing, NJ 08628, USA

3. Caption to be added to R402APD eye diagram:

In: -7 dBm p-p Out: > 170 mV p-p
R402APD w/PRBS: 231-1

Jay Magbitang
Sales Engineer
Discovery Semiconductors, Inc.
119 Silvia St.
Ewing, NJ 08628
tel: (609) 434-1311
fax: (609) 434-1317
email: info@chipsat.com
web: www.chipsat.com


More from Fluid & Gas Flow Equipment