Optical Proximity Switches use laser technology.
Press Release Summary: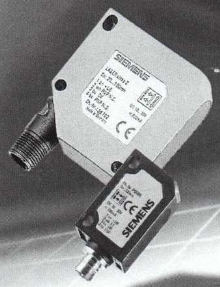 With one switching output, L20 laser reflex sensor can be used as diffuse sensor with background suppression for operating range up to 60-110 mm. As retroreflective sensor, range is 0.1-1 m. Laser contrast sensor, C20, detects printed labels at ranges to 150 mm using light focus of 0.5 mm. With measuring bandwidth to 10 KHz, L50 laser switch is available in versions with 4-20 mA analog output or RS 485 interface and features switching ranges of 30-100 or 80-300 mm.
---
Original Press Release:

Optical Proximity Switches Using Laser Technology


Siemens Automation and Drives (A&D) has added two new optical proximity switches to its range of laser technology sensors. The new switches are extremely small (K20 form), have a new sensor with a longer range and boast more functionality. The new optical proximity switches are available as L20 laser reflex sensor and C20 laser contrast sensor with a high measuring accuracy and long range. The new version of the L50 laser switch supplements the sensors in the upper performance range and features more functions with high switching ranges of 30 to 100 or 80 to 300 millimeters.

The new L20 laser reflex sensor with one switching output can be used as a diffuse sensor with background suppression for an operating range up to 60 or 110 millimeters. When used as a retroreflective sensor, the range is 0.1 to 1 meter. The sensitivity and switching range can be set by "teach-in", and the switching output defined as an NC or NO contact simply using single-key programming. Two LEDs indicate the switching status and any contamination.

The C20 contrast sensor rapidly and reliably detects printed labels at ranges up to 150 millimeters. Using a light focus (red laser light) of only 0.5 millimeters, even fine printed labels can be reliably detected. Again, two LEDs indicate the switching status and any contamination.

Also new is a further version of the L50 laser switch which supplements the upper performance range. The high switching ranges of 30 to 100 or 80 to 300 millimeters and a measuring bandwidth up to 10 Kilohertz mean that highly dynamic processes can also be reliably detected. The new sensor is available in versions with a 4 to 20 mA analog output or with RS 485 interface. Two different switching points can be evaluated using two additional switching outputs. Two sensors can be configured as master/slave for difference measurements, for example to measure exactly the thickness of objects. This is particularly advantageous with moving objects since complex postprocessing of the results is then unnecessary. Four function displays on the sensor provide information on signal statuses and any faults. The RS 485 interface is used for convenient software parameterization and evaluation.

You can find further information on the Internet at: siemens.com/bero

More from Architectural & Civil Engineering Products