Optical Mounts provide high thermal stability.
Press Release Summary: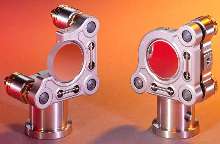 Based on sintered and pressed stainless steel technology, Suprema Series kinematic optical mounts incorporate 100 TPI precision actuators against ultra-flat carbide pads. Adjustable products accept 1 in. dia transmissive or reflective optics and provide independent qx and qy adjustment. SS series utilizes symmetrical closed aperture design and threaded mounting interface, while SN series features Clear Quadrant geometry and interchangeable actuators.
---
Original Press Release:

New Optical Mounts Combine High Stability and Low Cost


Irvine, California - May 17, 2004 - The new Suprema series from Newport Corporation are unique kinematic optical mounts that combine the thermal stability of stainless steel construction with the economy of aluminum components. Specifically, the Suprema series is the industry's first adjustable mount to be based on sintered and pressed stainless steel technology, which delivers up to 10 times greater thermal stability than competitive aluminum-based products. The Suprema series incorporates 100 TPI precision actuators against ultra-flat carbide pads for superior adjustment "feel", sensitivity and accuracy. The initial Suprema products accept 1" diameter transmissive or reflective optics, and provide independent qx and qy adjustment.

The Suprema mounts are intended for both OEMs and laboratory users, particularly in laser-based systems. Typical examples include ultrafast laser applications, laser research, semiconductor inspection and material processing, laser surgical devices, free space optical communication, medical flow cytometry, DNA sequencing, and proteomics instrumentation. The Suprema offers the precision and stability necessary for these demanding applications, while still minimizing the overall cost of the opto-mechanical train.

Two versions of Suprema are currently offered. The SS series delivers the highest thermal stability due to a symmetrical closed aperture design and threaded mounting interface. The SN series features Newport's patented Clear Quadrant geometry to enable the optical path to pass close to the edge of an optic without interference from the mount. The SN series also features interchangeable actuators. Both the SS and SN include a unique locking system based on "jam nut" technology that does not influence component position and are available in either two or three actuator configurations.

More information on Newport's comprehensive line of opto-mechanical components is available on the company's web site at www.newport.com.

About Newport Corporation

Newport Corporation is a leading global supplier of advanced technology products and systems to the semiconductor, communications, electronics and research markets. The company provides components and integrated subsystems to manufacturers of semiconductor processing equipment, advanced automated assembly and test systems to manufacturers of communications and electronics devices, and a broad array of high-precision components and instruments to commercial, academic and government customers worldwide. Newport's innovative solutions leverage its expertise in precision robotics and automation, sub-micron positioning systems, vibration isolation and optical subsystems to enhance the capabilities and productivity of its customers' manufacturing, engineering and research applications. Newport is part of the Standard & Poor's Midcap 400 Index and the Russell 2000 Index. For more information, visit www.newport.com, or contact the company at 1791 Deere Avenue, Irvine, California, 92606, USA, Tel. (In U.S.) (800) 222-6440; Tel: (949) 863-3144; Fax: (949) 253-1800.

Company Contact:

Worldwide Headquarters
David Rossi
Director of Marketing
Tel: 949.863.3144
Fax: 949.253.1800
E-mail: drossi@newport.com

Tom Miller
Director of Product Marketing, Optics and Optomechanics
Tel: 949.253.1297
Fax: 949.253.1680
E-mail: tmiller@newport.com

Europe
Geneviève de Roland
Marketing Communications Department
Tel: 011.33.1.60.91.68.68
Fax: 011.33.1.60.91.68.69
E-mail: gderoland@newport-fr.com

More from Electrical Equipment & Systems