Optical Measuring System delivers micron level accuracy.
Press Release Summary: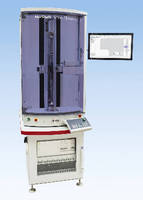 Offering fully automatic optical measuring system for dimensional testing of turned parts, MarShaft™ Scope Plus includes MarWin®-based controller and EasyShaft® operating software. Optional ProfessionalShaft™ software provides high-level script programming that allows virtually unlimited customizing capability. Error limit for measuring length and diameter with system is 2+L/125 µm. With built-in intelligent multi-touch gestures, touchscreen enables zooming in on specific features.
---
Original Press Release:

Mahr Federal To Feature Redesigned MarShaft(TM) Scope Plus At WESTEC



PROVIDENCE, RI — Mahr Federal will be featuring the new, totally redesigned version of its MarShaft™ Scope, its high-precision, fully automatic optical measuring system for dimensional testing of turned parts at WESTEC, October 15-17, 2013, Los Angeles Convention Center, Los Angeles, CA, Booth #3032.



The new MarShaft Scope Plus is now twice as accurate as previous -- and competitive -- models. It offers micron level measurements, and includes a new MarWin®-based controller and system architecture that opens new levels of machine capability. The new MarShaft Scope Plus also incorporates new EasyShaft™ operating software that facilitates easy and quick measurements. The optional ProfessionalShaft™ software high-level script programming allows virtually unlimited customizing capability for these systems.



"The goal of this ground-up redesign was to apply Mahr's extensive experience in form, surface, and contour measurement to the world of optical shaft measurement and fundamentally change what is possible," said Pat Nugent, Mahr Federal Vice President for Metrology Systems. "In addition to mechanical enhancements that improve accuracy, we're now using the same electronics and controller architecture, and the same MarWin operating platform, as our high-end form testers."



The error limit for measuring length and diameter with the new MarShaft Scope Plus is (2+L/ 125) µm. "This groundbreaking level of accuracy for an optical shaft measuring system allows high precision measurements on turned parts that typically couldn't be measured by these types of systems," said Nugent.



Operational software for the MarShaft Scope Plus comes in two levels: basic and professional. Basic EasyShaft software provides simple touch screen operation utilizing selectable feature icons, many of which are easily recognizable from the standard Feature Control Frames that the user sees on their part drawings. ProfessionalShaft script-level programming of the new MarShaft Scope Plus allows expert users virtually unlimited access to the machine's capabilities.



All MarShaft Scope Plus systems are equipped with touch screens with intelligent multi-touch gestures built in, so zooming in on specific features is as easy as the two finger "pinch to zoom" we all know from typical tablets. Moving the camera view around the machine is done by a flick of the finger on the screen just as you would do to scroll up or down on a tablet.



Also on display at Mahr Federal's booth #3032 will be:



• Mahr Federal's extremely broad line of MarCal calipers for a wide range of outside, inside, depth, step, and compound measurements. The MarCal line includes standard, special, and universal digital, dial, and mechanical calipers, as well as workshop calipers, depth calipers, and a line of linear machine scales with digital display. Advanced features Include: lapped guideways; a new Reference System that retains the zero position setting; and an increased number of product options and accessories.



• Mahr Federal's new MarConnect Integrated Wireless data transmission system which has been added to its family of MarCator Digital Indicators. New low power, low cost data transmission technology has allowed the transmitter to be built into the digital indicator. MarCom software allows transmission of measurement data directly into MS Excel or via a keyboard code into any Windows program without cumbersome cables.



• A selection of Mahr form and surface systems will be featured with the newly released MarWin 6.0 software platform, including: the MarSurf® XR 1, an economical, mobile, PC-based Surface Measuring System; the MarSurf XCR 20, which combines surface contour and roughness evaluation; and the well-known MarForm MMQ 200 and MMQ 400 Formtesters, which allow measurement of a variety of form characteristics as well as roughness parameters in the same setup.



• Mahr Federal's newly introduced Standard Elements new modular-based gaging system with standard components that allow users to configure and implement simple to complex gaging solutions quickly and cost effectively. Standard Elements provide the flexibility and versatility of a general gage, yet can also combine to provide the speed and accuracy of a custom or dedicated gaging solution. The system is designed to meet the ID, OD, and length measurement needs of today's manufacturing environment where short runs and quick changeovers are becoming the rule.



A full range of other Mahr Federal handheld gages and other dimensional metrology products will also be on display.



Mahr Federal Inc., a member of the Mahr Group, has been providing dimensional measurement solutions to fit customer application needs for over 150 years. The company manufactures and markets a wide variety of dimensional metrology equipment, from simple and easy-to-use handheld gages to technically advanced measurement systems for form, contour, surface finish and length. Mahr Federal is also well known as a producer of custom-designed gages and a provider of calibration and contract measurement services. Mahr Federal's calibration laboratories are accredited to ISO/IEC 17025:2005 NVLAP Lab Code 200605-0 (see our Scope of Accreditation for accredited calibration processes). For more information visit http://www.mahr.com



For additional information, contact:

Marketing

Mahr Federal Inc.

1144 Eddy Street

Providence RI 02905 USA

Tel: (800) 343-2050 or (401) 784-3100

Fax: (401) 784-3246

Email: information@mahr.com

Web site: http://www.mahr.com

More from Chemicals & Gases