Vision and Imaging Sensors / Detectors
Optical Flame Detectors are explosion proof.
Press Release Summary: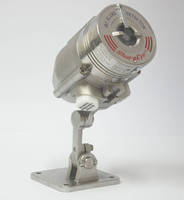 Designed to protect municipal/industrial waste disposal facilities, SharpEye 40/40I optical flame detectors are fitted with heated window to withstand harshest of conditions, and HART output to offer quality information during installation or maintenance. Detectors are Hazardous Area approved (FM/ATEX/IECEx/CSA) for location in zone I areas and 3rd party performance approved (EN54-10, FM, DNV). Product, when placed along edge of waste pit, enables continuous monitoring of waste pit.
---
Original Press Release:

New Optical Fire Monitoring for Waste Disposal Facilities



Cedar Grove, NJ (December 21, 2008) - The unique fire and explosion hazards in municipal and industrial waste disposal facilities has led Spectrex Inc., the world's leader in the development and implementation of optical flame and gas detection and suppression systems, to provide its explosion-proof SharpEye 40/40I Optical Flame Detectors to protect these facilities.

The new SharpEye 40/40 Series Flame Detectors offer enhanced reliability and durability with an extended 5 year warranty. All are fitted with heated window to withstand the harshest of conditions, HART output to offer quality information during installation or maintenance. Most have an enhanced detection distance and larger field of view than before.

All these detectors are Hazardous Area approved (FM/ATEX/IECEx/CSA and more) for location in zone I areas and 3rd party Performance approved (EN54-10, FM, DNV).

The outdoor storage areas for waste bales (residential waste) which are often stored at high locations experience fires due to the spontaneous heat accumulation of the waste or ignition of hazardous materials such as flammable liquids or gases in the waste. The waste bales are packed in polyethylene foil, which is usually difficult to ignite; however, smoldering fires tend to spread from inside the bales and, if not detected in time, may cause large fires and sometimes explosion due to gaseous pockets within the waste storage area.

Positioning optical flame detectors along the edge of the waste pit enables continuous monitoring of the waste pit over large areas of bulky refuse storage. A typical fire protection system consists of infrared fire sensors located on the pit ceiling (if it is closed) or along its perimeter edge, fire extinguishing equipment on the upper part of the wall (water monitor/ water discharge nozzles), a fire monitoring panel, fire extinguishing equipment control and operation panels in the trash bunker crane operation room, and a water supply source, including a pump and piping.

In the case of larger pit bunkers, the fire location is identified at a very early stage by the unique Triple Infrared (IR3) 40/40I fire detector and the water monitor is automatically directed at the fire source according to the fire location information. In the case of smaller pits, when a fire is detected and its location is identified, water is immediately discharged from the water discharge nozzle(s) locally onto the location or in the entire area.

About Spectrex Inc.

For over 25 years, Spectrex Inc. has been providing the market with the best detection and suppression systems and products that meet the highest customers' requirements for reliability, quality and operation in extremely tough environments.

Spectrex's competitive edge is based on its innovative capabilities and its unique technologies that are protected by more than 20 diverse international patents, including UV/IR and IR3 Optical Flame Detection, Flash-Type Open Path Gas Detection, EMF and SFE novel fire suppression technologies.

For more information about Spectrex Inc. and its products, visit www.spectrex-inc.com, or contact Eric Zinn at +1(973) 239-8398 or +1(800) 452-2107 (Toll free within the US only).

More from Cleaning Products & Equipment