Optical Electric Signal Level Meter suits HFC networks.
Press Release Summary: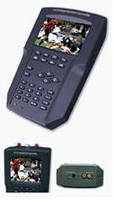 With ability to measure reverse direction signal, Model GAO 2112AX comes with power testing, DVB signal measurement, optical fiber signal input, EVM functions, constellation diagrams and optical picture viewing. It has video input and audio input ports. Other features included are 1310 and 1550 nm wavelength, -30 to +20 dBm dynamic range, modulation error ratio (MER) between 18-40 dB, and modulation error ratio accuracy of ±1.5 dB.
---
Original Press Release:

GAO Launches Digital Optical Electric Signal Level Meter



10/30/2008

Toronto, Canada - GAO Tek Inc. (www.GAOTek.com) now provides an advanced digital optical electric signal level meter (GAO 2112AX). This meter is suitable for the HFC network and features many practical functions such as power testing, DVB signal measurement, optical fiber signal input, EVM functions, constellation diagrams and optical picture viewing. It has video input and audio input ports. Reverse direction signal can be measured as well.

Specifications for GAO's Digital Optical Electric Signal Level Meter:

Optical signal index:

Double wave-length: 1310nm/1550nm
Dynamic range: -30 to 20dBm
Accuracy: less than or equal to 4%
Fit standard: DVB-C/ITV.J83-A/C
Power level range: 30dBuV to110dBuV
Power level accuracy: ±2.5dB
Modulation Selection: 16QAM /32QAM /64QAM /128QAM /256QAM
Modulation Error ratio (MER): 18 to 40dB
Modulation Error ratio accuracy: ±1.5dB
Analog signal function: Analog channel analysis level V/A, C/N, TILT, spectrum, TV picture and measurement result is showed on the same screen.
Frequency range: 5MHz to 860MHz

For more information please contact sales@GAOTek.com, or visit (http://gaotek.com/index.php?main_page=product_info&cPath=114&products_id=1413)

About GAO Tek Inc.
GAO Tek Inc. is a leading provider of test and measurement equipment, embedded development tools, telecommunication testers, electronic measurement instruments, video surveillance, alarm and other electronic products that serve the needs of electronic professionals internationally.

For more information please visit www.GAOTek.com.

GAO Tek Inc. is a member of GAO Group, which also includes
o GAO RFID Inc. - www.GAORFID.com
o GAO Tek Inc. - http://www.GAOTek.com
o GAO Research Inc. - www.GAOResearch.com
o WowGao Inc. - www.WowGao.com
o GAO RFID Asset Tracking - www.GAORFIDAssetTracking.com
o GAO Embedded- www.GAOEmbedded.com
o GAO Instruments - www.GAOInstruments.com
o GAO Comm - www.GAOComm.com
o GAO Fiber Optics - www.GAOFiberOptics.com

Company Name: GAO Tek inc
Address 1: 601 Milner Avenue,3rd Floor
City: Toronto
Zip: M1B 2K4
Country: Canada
Phone: 416-292-0038
URL: www.GAOTek.com

More from Material Processing