Vision and Imaging Sensors / Detectors
Optical Distance Sensors offer 60-10,000 mm measuring range.
Press Release Summary: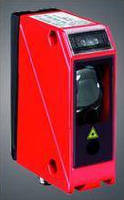 Based on Time of Flight technology, ODS 96B Series includes 6 models with measurement times of 5-30 ms, resolution of 0.1-3 mm, and absolute accuracy within 0.5%. Sensors feature graphical display, LED measurement display, and configuration directly from device. Providing fast, precision, and standard operating modes, sensors are suitable for non-contact applications such as measuring dimensions, position recognition, detecting overlaps, and tool positioning.
---
Original Press Release:

ODS 96B Optical Distance Sensors



The new ODS 96B optical distance sensors from Leuze electronic provides a compact solution for detection and measuring.

Going the distance and outperforming all the rest with unmatched technology that provides superior speed and accuracy from large operating distances, the new ODS 96B optical distance sensors from Leuze electronic provides a compact solution for detection and measuring. Your customers can be confident using this product series in any of their businesses for a range of applications; from measuring dimensions; to position recognition; to detecting overlaps and tool positioning.

Let's face it. These days it's all about the numbers, and how those numbers can improve overall operation and production for a business, and with numbers like these it's plain to see that the ODS 96B is precise and unmatched wherever you put it.
o Measuring range of between 60mm and 10,000mm

o Resolution of 0.1-3mm

o Absolute accuracy of within 0.5%

o Three operating modes - fast, precision, and standard.

o Light spot dimensions up to 15mm

o Fast measurement time of between 5mm and 30ms

o 30mm width - thinnest in its class

With 6 different models in this product range to choose from, you can customize the device to suit the specific industrial needs of your customers. While the defining characteristic of the entire product range is precision and operating at large distances, each model is suited to a specialized function allowing the ODS 96B to to be utilized specifically for activities such as measuring bulk material, surfaces of varying material and texture, objects with openings, small objects, dark objects, uneven objects and more.

However, perhaps the biggest difference your customers will notice is in the advanced technology, with the ODS 96B using Time of Flight (TOF) technology, which is vastly superior to the standard triangulation sensors. This technology sends out a short optical pulse and measures the time until a reflected portion of the pulse is monitored. The distance is then calculated using the velocity of light resulting in twice the accuracy of standard competing devices. It is this new technology that accounts for the key feature of this product series which allows measurement at longer distance ranges.

With a graphic and powerful display directly on the device, a powerful LED measurement display, and easy configuration directly on the device, your customers will find this entire product series simple to read and configure, and is quickly adapted into their operation for any application. The three operating modes further custom the device to each individual industrial need by providing various ratios between speed and accuracy. Switching between modes is done easily, and measurements can be monitored via the direct interface on the device.

Featuring a combination of advanced technology and user friendly features and interfaces, this product range is the latest solution in non contact measurement applications. This is how distance sensors are built today, and it's here now from Leuze electronic with the ODS 96B product range.