Optical Beam Smoke Detector features multi-head design.
Press Release Summary: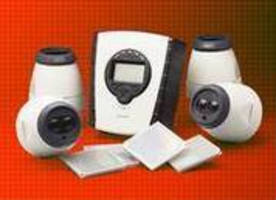 Suited for large indoor spaces, motorized Fireray 5000 allows up to 4 beam detectors to be installed as one system. Controller retains one set of fire and fault relay contacts that are common for all connected detectors, but each detector configures independently and maintains its own range, fire obscuration threshold, and fire/fault delay settings. AGC monitors and reacts to environmental changes, while Auto-Optimize feature automatically self corrects, ensuring alignment of IR beam.
---
Original Press Release:

Fire Fighting Enterprises Debuts Multi Head Model of Fireray 5000



Up to four beam detectors on one controller saves on installation

Corinth, Texas (September 22, 2009) -The Fireray 5000 optical beam smoke detector from Fire Fighting Enterprises (FFE) delivers wide area coverage for large indoor spaces. With the introduction of its new Multi Head System, the Fireray 5000 becomes the first and only UL/ULC Listed, motorized, auto align, self correcting beam smoke detector that allows up to four beam detectors to installed as one system. With a single system controller, the Multi Head Fireray 5000 significantly reduces both time and cost for installation, wiring, and power supply.

The new Multi Head system enables up to four beam heads in a common locale to be spaced out or oriented to cover unorthodox-shaped areas. The system controller retains one set of fire and fault relay contacts that are common for all detectors connected to that controller. However, each detector configures independently and maintains its own range, fire obscuration threshold and fire/fault delay settings.

Each detector head beam can be fully adjusted, controlled and annually tested from the low-level system controller. In addition to requiring fewer system controllers, a built in Laser Pointer for simplified prism placement; two conductor wiring between the detector and controller; and a complete line of accessories all reduce the time, effort and expense of installation. With only one controller for four heads, the Multi Head Fireray 5000 draws a much lower current, also saving on operating costs over the life of the system.

The Fireray 5000's AGC (Automatic Gain Compensation) monitors and reacts to environmental changes such as dust accumulation. Its Auto-Optimize feature automatically self corrects, ensuring alignment of the infra-red beam with the reflective prism, even in the event of gradual building settling The need for costly, risky and time consuming re-alignment and maintenance from atop ladders or lifts is eliminated.

The UL/ULC approved Multi Head Fireray 5000 is stocked, ready to ship, from FFE's new Kentucky distribution center. To request a demonstration or discuss possible beam detection applications, contact the US sales office (rbarker@ffeuk.com; 940-271-0435), or visit the company's website, www.ffeuk.com.

With over 600,000 installations worldwide, FFE is the largest independent producer of infrared optical beam fire protection technology. The company's beam detectors are ideally suited for wide-area coverage such as warehouses, factories, hotels, shopping centers, indoor parking garages, and power stations. The company also produces fire extinguishers for aviation use, and a range of vibration switches for industrial applications. A member of the multinational Halma group of safety and technology companies, FFE is headquartered in Hertfordshire, England.

View FFE's press release archive at: http://halmapr.com/news/ffe/

More from Electrical Equipment & Systems