Vision and Imaging Sensors / Detectors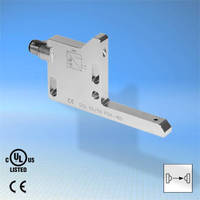 TR Electronic North America - February 5, 2009
Troy, Michigan & London, ON, Canada

TR Electronic has introduced a new sensor solution to the North American market. Manufactured by di-soric GmbH, the new OGL 55/54 sensor provides an alternative to proximity sensors for demanding applications such as stamping, automotive and industrial machine design.

ABOUT ANGLED FORK SENSORS

For presence and part detection, the proximity sensor is king. However, the angled fork sensor (also known as an optical angle sensor) is quickly becoming recognized as a non-contact, highly reliable alternative. Angled sensors are a derivative of the more common fork sensor. Fork sensors align the transmitter and receiver in a fork like housing to guarantee sensor alignment. By removing one of the 'sides' and angling the optics, an angled sensor becomes a candidate to replace many less reliable sensor solutions including proximity switches.

di-soric has been producing angled optical sensors since 1998 when it was developed specifically for the automotive industry (for part detection in a stamping process). The new OGL 55/54 optical sensor is available in metal or plastic housings and includes an innovative technology to detect contamination. The sensor includes an LED to indicate normal operation but also includes a contamination LED that notifies you if oil, grease, dust or other contaminants are present. Once the optics have been cleared, the indicator turns off. With this feature, the sensor will operate in very harsh environments, but also provide additional intelligence for maintenance personnel.

"Our customers in industries like metal forming and automotive have been looking for ways to reduce the cost [and quantity] of proximity sensors that are routinely replaced due to breakage and wear-and-tear", says Steve Cecchini, Regional Sales Manager for TR Electronic.

The OGL line of sensors is available in various shapes and housings and is available from TR Electronic in the USA and Canada.

TR Electronic offers a full range of part detection, position sensing, safety and automation solutions. Backed by 24/7 service and an unwavering commitment to customer support and application assistance, TR Electronic has been serving the North American market for over 20 years.

For additional information on the OGL optical sensors, to schedule a demo, or to speak with any member of their Customer Care team, please call:
1-800-709-3300 (USA)
1-800-265-9483 (Canada / Mexico)

Visit TR Electronic on-line at www.trelectronic.com
or
e-mail customercare@trelectronic.com.

More from Machinery & Machining Tools