Operator Interface takes advantage of Industrial Internet.
Press Release Summary: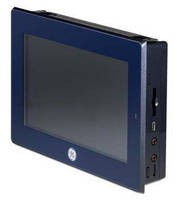 Integrating process control, view, and data historian capabilities with capacitive touchscreen technology, QuickPanel+ delivers data and insight needed to meet pace of Industrial Internet. General purpose operator interface is available in 7 in. widescreen format and is capable of connecting to industrial PLCs and PACS. With Windows EC7 operating system, QuickPanel+ also provides users with fully functional browser and multimedia support.
---
Original Press Release:

GE Launches Operator Interface Solutions for the Industrial Internet



QuickPanel+ is latest addition to state-of-the-art operator interface product line designed to deliver high-performance automation for our connected world



Single device delivers data and insight needed to meet the pace of the Industrial Internet and realize business outcomes that only automation can deliver



Connects people and machines – smarter, faster and easier than ever before



CHARLOTTESVILLE, VA — GE Intelligent Platforms (NYSE: GE) today announced the availability of its first product in the company's new line of Operator Interface (OI) solutions designed specifically to take advantage of the Industrial Internet. QuickPanel+ integrates process control, view and an option to run an embedded data historian with the latest touchscreen technology to provide the high performance, connectivity and user experience expected in today's increasingly connected world.



QuickPanel+ is a general purpose operator interface capable of connecting to a variety of industrial PLCs and PACS. With faster processing speeds and more memory, it delivers control, view and data historian capabilities in a single device. The latest in capacitive touchscreen technology makes it as responsive as a tablet or smartphone yet robust enough to withstand industrial environments and applications, even if the user is wearing gloves.



"We live in an outcome driven world," said Bernie Anger, General Manager of GE Intelligent Platforms' Control & Communications Systems. "We are all challenged to keep pace with technology, customer experience and expectations to always do more with less. Quick Panel+ was specifically designed with these customer challenges in mind, and delivers on the promise of the Industrial Internet for automation in a sleek and simply way."



The QuickPanel+ is the latest release in GE Intelligent Platforms' operator interface solutions. Its state-of-the art features mean the OI is no longer a mere portal but a strategic bridge for understanding and running a machine. It is a single solution for controlling, viewing and understanding past and present performance. Through combining the ability to view machine status and control the machine, or view machine status and run a data historian, the QuickPanel+ lowers total cost of ownership, speeds time to market and makes integration easy.



"GE's automation architecture redefines the experience with industrial equipment," said Anger. "At each layer, it helps OEMs design better machines and plants, and it helps users operate their plants smarter. The experience starts at the pivotal point where people connect with machines – the operator interface."



With the Windows EC7 operating system, QuickPanel+ also provides users with a fully-functional browser and multimedia support for extracting value from an OI. The QuickPanel+ can improve productivity and knowledge sharing through making assets like training videos or documentation readily available to the user



The first QuickPanel+ release, available immediately, is the 7-inch widescreen format. This will be followed by a 12-inch model later in the year with other screen sizes available in early 2014.



For more information on QuickPanel+, click here.



About GE

GE (NYSE: GE) works on things that matter. The best people and the best technologies taking on the toughest challenges. Finding solutions in energy, health and home, transportation and finance. Building, powering, moving and curing the world. Not just imagining. Doing. GE works. For more information, visit the company's website at www.ge.com.



Media contacts:

Elli Holman

GE Intelligent Platforms, Public Relations Director

Phone: +1 508 698 7456

Mobile: +1 508 298 8306

Email: elli.holman@ge.com

Related