Operator Interface Panels serve water/wastewater industry.
Press Release Summary: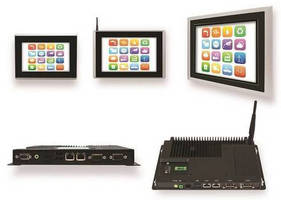 With flexible, open platform, Industry 4.0 HMI Panels and intelligent operator interfaces address IoT and SCADA applications. Intelligent HMIs with SCADA software are used to monitor and control tank levels, remote well pumps, lift station/high service/chemical pumps, and valves, while SCADA Systems monitor plant data. Alarms at central or remote sites are propagated to HMI and operator. Also, plant information is logged in HMI computer database and can be routed to other networks/IT personnel.
---
Original Press Release:

AIS's Operator Interface Panels for Industrial IoT, HMI, SCADA Control and Monitoring for Water and Wastewater Industry Applications



AIS Reliable and Affordable Industry 4.0 HMI Panel Solutions Optimize Water & Wastewater Operations and Support Regulatory Compliance for Severe Drought & Water Conservation



IRVINE, CALIFORNIA — American Industrial Systems, Inc. (AIS) a leader in the development, engineering and manufacturing of open architecture, HMI solutions, Industrial panel (IPCs) announces their operator touch panels and Industry 4.0 panels for Industrial Internet of Things (IoT) and SCADA applications in the Water and Wastewater industry. AIS's new Industry 4.0 HMI Panels and intelligent operator interfaces serve a broad range of touch-screen requirements from high level SCADA to enterprise and business integrations systems. The new smart touch-panels from AIS with help OEMs and water and wastewater treatment and processing facilities:

• Maximize productivity, efficiency and uptime

• Reduce implementation and development costs

• Minimize lifecycle costs, maintenance and supply chain costs

• Meet increasing regulatory compliance and certifications

• Help plan for future easy expandability and system upgrades



The Need for More Efficient Control and Monitoring Solutions Are Needed to Help Address Severe Draught Problems & Water Shortages in California and Other Areas of the World



From OEMs of water/waste water equipment, to municipal water treatment facilities, the pressure to address serious challenges are mounting. These challenges include rising water quality standards, security, stringent government regulations, rising operating, labor, service and maintenance costs, and aging infrastructure in dire need of upgrades. AIS Industrial and Intelligent Touch Panel Interfaces are suited to address all of these requirements because of their flexible, open platform, powerful processing, high functionality, versatility, advanced performance and affordable cost. Water processing and treatment facilities including industrial water and wastewater systems, desalination, irrigation applications, dam monitoring and are in need of:

• Sustainable, reliable and secure delivery of affordable, high quality water

• Reliable, inexpensive distribution of high quality water

• Reduction in energy usage and wastewater collection

• Lower costs to dispose or reclaim high quality water

• Efficient control and regulation of water flow to address drought and storms and response to safeguard life and/or protect assets



Recent Water Crisis and Drought in California Drives IoT Innovation and Enabling Technologies Such as AIS Smart, Rugged HMI Touch Panel Solutions



According to recent estimations based on a NASA satellite data analysis of how much water the state's reserves lack, it would take more than 14,000 times the amount of water it would take to fill the Dallas Cowboys stadium. It's the amount of water that flows over Niagara Falls in about 170 days' time. California's water crisis has renewed interest in Smart technology solutions for both the supply and demand side of water resource management. In addition conservation, Smart solutions and smart systems are among the most promising to help address the water crisis in California and other parts of the world.



Technological innovations include the ability to take advantage of previously unusable supplies through improved water desalination, increased industrial efficiency through new water reclaiming technologies, and new agricultural technologies involving crop protection and irrigation controls. A new breed of water tech automation solutions, especially the Internet of Things-based control and monitoring systems such as AIS's IoT and Smart HMI Visualization and Touch Panel Solutions combined with SCADA software for water management are solutions that can be explored to help begin to solve some of these serious issues. Other water tech and related technology developments currently being explored include:

• Smart monitoring technologies using pressure and acoustic sensors to detect, report and reduce water loss via wireless monitoring systems.

• Global positioning satellites, remote sensors, aerial images, and geographic information systems for assessing agronomic conditions

• Recent advances in urban water management through optimizing wastewater processing and recycling, as tracking data and scientific understanding continues to improve.



AIS Smart, Industry 4.0 HMIs and Operator Interfaces Powered by SCADA Software Help Solve a Variety of Water and Waste Water Systems



AIS's Intelligent HMIs with Supervisory Control and Data Acquisition (SCADA) software are important Smart systems used in Water and Waste Water management and production applications. These control and monitoring systems are used to monitor and control tank levels, remote well pumps, lift station pumps, high service pumps, valves and chemical pumps.



SCADA Systems monitor a variety of plant data including flows, motor currents, temperatures, water levels, voltages, and pressures. Alarms at central or remote sites triggered by any abnormal conditions are propagated to the HMI and the operator. The operator can view this information and data for actionable decision making. In addition to alarms, important plant information such as, levels, flows, pressure will be logged in the HMI computer database for reports and trends and then can routed to other networks or IT personnel within the facility.



AIS Water & Waste Water Industry Specific HMI Products and Benefits:

• Open, Web Enabled, Windows Based Human Machine Interface (HMI), supported by superior Visualization development software

• Rugged HMI Panels with touch screens and stainless steel fronts are designed for operator control and monitoring

• Modular design with tool-free component removal for increased efficiency

• No moving parts throughout the entire product range; Solid State Drives and fan-less cooling are standard and provide better performance and reliability

• Industrial Internet of Things (IoT) and Industry 4.0 HMI Ready Platforms



AIS recently introduced their new series of HMIs, including: the Premium, Standard and Compact HMIs. Key features of the entire range of new, open HMI touch panels from AIS include:

• Open & standard interfaces in hardware & software for HMI, SCADA & MES applications

• PC-based automation using standard Ethernet & TCP/IP for easy HMI/SCADA & IT/OT integration

• Web-enabled HMI with HTML5-compliant web browsers for improved real-time decision making

• Easy to replace, highly modular designed field-replaceable front display and box PC

• Maintenance-free illumination system with lifetime rating of 80,000-100,000 hours on Eco mode

• Expandable HMI solutions with multiple configurations & options for fast project engineering

• International marks and schemes for safety equipment, certification and regulatory compliance

• Suited for IT-OT convergence, M2M communications, Industry 4.0 and IoT ready for future requirements



About AIS

Headquartered in Irvine, California, USA, American Industrial Systems, Inc. (AIS) offers in-house electronic and mechanical design, software development, manufacturing, production and quality control services. Offering one of the widest ranges of industrial computing solutions, AIS solutions are available in a multitude of configurations for industrial, oil & gas, military and marine applications. The company is fully committed to empowering, improving and delivering turnkey HMI, monitoring and display solutions for OEM, ODM and end-user customers. AIS is an ISO 9001:2008 certified supplier and manufacturer of rugged computers and displays, and received completion of the International Traffic in Arms Regulations (ITAR) registration from the Directorate of Defense Trade Controls (DDTC). For more information, visit: www.aispro.com, email: sales@aispro.com or contact: 1-888-485-6688.



Media Relations Contact:

American Industrial Systems, Inc.

David G. Martorana

Marketing & Public Relations

1.847.630.6487 or dynmarent@gmail.com

More from Communication Systems & Equipment