OpenVPX Backplanes offer central-switched, pass-through profiles.
Press Release Summary: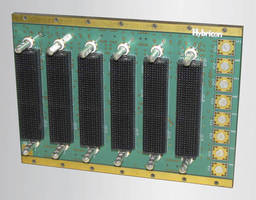 Hybricon® Fabric40™ central-switched and pass-through OpenVPX backplanes enable end-to-end transmission of high-speed data required for ground and airborne C4ISR and EW deployed applications. With 3U form factor, products support full-speed, bottleneck-free distribution of data over Gen3 PCIe, 40 Gbps Ethernet, or Infiniband® fabrics as well as such high-speed FPGA I/O as Xilinx® RocketIO and Aurora architectures. Air-cooled or conduction-cooled versions are available.
---
Original Press Release:

Curtiss-Wright Extends Hybricon Family of Fabric40 OpenVPX Backplanes with New 3U Central-Switched and Pass-Through Profiles



First to bring 40Gbps Ethernet/Infiniband Gen3 OpenVPX backplanes to small form factor 3U system designs



ASHBURN, Va. — Curtiss-Wright Corporation (NYSE: CW) today announced that its Defense Solutions division has introduced two new 3U 40Gbps Gen3 OpenVPX™ backplanes. The new Hybricon® central-switched and pass-through OpenVPX backplanes are the newest additions to Curtiss-Wright's industry-leading Fabric40™ family of backplanes designed to enable end-to-end transmission of the high speed data required for the most demanding ground and airborne C4ISR and EW deployed applications. They support full-speed, bottleneck-free distribution of data over Gen3 PCI-Express, 40Gbps Ethernet or Infiniband® fabrics as well as High speed FPGA I/O such as Xilinx®'s RocketIO and Aurora architectures. Curtiss-Wright's Fabric40 backplanes deliver over 2x the performance of previous generation Gen-2-based systems and 4x the performance of Gen1-based systems. The new 3U backplanes bring Gen3 OpenVPX performance to compute-intensive but SWaP-constrained defense and aerospace EW, SIGINT, and RADAR applications, such as the real-time detection and identification of signals of interest. Designed for deployment in harsh defense and aerospace environments, Hybricon backplanes are ideal for use in air, naval, ground vehicles, and base station platforms.



"We are very excited to announce these two new Hybricon 3U Fabric40 OpenVPX Backplanes that extend our Fabric40 product family of Gen3 products to include both 3U and 6U form factors," said Lynn Bamford, Senior Vice President and General Manager, Defense Solutions division. "Our groundbreaking new family of Fabric40 COTS OpenVPX products delivers processing bandwidth far beyond any OpenVPX backplanes previously available in the embedded defense and aerospace market. They significantly reduce the signal integrity risks and data flow restrictions our customers would otherwise face when adopting Gen3 processing technology for demanding C4ISR and HPEC applications."



Fabric40, Signal Integrity and End-to-End Interoperability



Designed to stringent Curtiss-Wright Gen3 Signal Integrity (SI) design rules, Hybricon Fabric40 backplanes exceed VITA 68 VPX compliance channel draft standard guidelines. Curtiss-Wright's proprietary SI methods minimize signal impairments, such as high return loss, crosstalk and mode conversion (patent pending), to deliver reliable SI performance at speeds up to 10.3 Gbaud, resulting in the best performance and lowest risk backplane platform in the industry.



40Gbps High Speed Modules and Backplanes



Curtiss-Wright's innovative Fabric40 initiative ensures that all aspects of 40Gbps data fabric technology are optimally configured to work together, which greatly enhances interoperability and reduces customer integration risks and development time. Curtiss-Wright is developing all of the subsystem elements required by system designers to integrate complete, end-to-end 40Gbps embedded systems. OpenVPX systems built using the new Hybricon Fabric40 Gen3 OpenVPX backplane and complementary Fabric40 system products, such as the VPX3-530 Digital Signal Processor (DSP),CHAMP-AV9 DSP engine, CHAMP-FX4 FPGA card, CHAMP-DRFM digital RF memory card, VPX6-6802 Switch card, and VPX6-1958 single board computer (SBC), will deliver over 2x the performance of previous generation PCIe or SRIO Gen-2-based systems and 4x the performance of 10 GbE-based systems.



Pricing and Availability

Hybricon Fabric40 Gen3 OpenVPX backplanes and development chassis are available now for 3U or 6U payload, in both air-cooled or conduction-cooled form factors.



Sales inquiries: Please forward all Sales and reader service inquiries to Kavita Williams, Curtiss-Wright Defense Solutions, Tel: (661) 705-1142; Fax: (661) 705-1206; email: ds@curtisswright.com.



For more information on Curtiss-Wright Defense Solutions products, please visit www.cwdefense.com.



About Curtiss-Wright Corporation

Curtiss-Wright Corporation (NYSE:CW) is a global innovative company that delivers highly engineered, critical function products and services to the commercial, industrial, defense and energy markets.  Building on the heritage of Glenn Curtiss and the Wright brothers, Curtiss-Wright has a long tradition of providing reliable solutions through trusted customer relationships. The company employs approximately 10,000 people worldwide.  For more information, visit www.curtisswright.com.



Note: All trademarks are property of their respective owners.



John Wranovics

Director of Public Relations

Curtiss-Wright Defense Solutions

jwranovics@curtisswright.com

Mobile: (925) 640-6402

More from Mechanical Power Transmission