Open Frame Monitor features 24 in. LED-backlit panel.
Press Release Summary: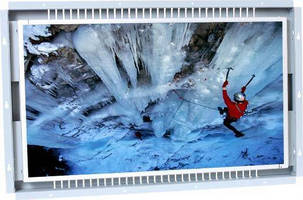 Offered as replacement for FWT-2407O, LWT-2407O incorporates 24 in., LED-backlit, 250 nit TFT LCD panel that can produce 16 million colors for digital signage applications as well as industrial applications. Widescreen solution can be used as open frame or touchscreen monitor and offers 1920 x 1080 WXGA max resolution, 5000:1 typ contrast ratio, and 12 msec typ response time. Viewing angles – left/right and up/down – are ±89°.
---
Original Press Release:

A 24 Inch Wide Open Frame Monitor with an LED Backlit Panel



With the discontinuation of the FWT-2407O, Caltron has replaced the unit with an LWT-2407O, 24" LED Open Frame Monitor.  An LED backlit monitor provides a power display with 250 nits and uses less energy to power the unit.  It is great for applications that require a bright display while consuming less energy.  All mechanical specs are the same as the previous FWT-2407O model, except that the LWT-2407O now uses an LED backlit LCD panel, instead of the traditional CCFL backlit panel, while still having the same robust and durable qualities as the FWT-2407O.



Using the LWT-2407O 24" Wide LED open frame monitor is great for many industrial applications that require a large wide screen monitor or it can also be used in many digital signage applications.  Gradually as time passes, technology keeps advancing and hence is the reason Caltron has introduced the LWT-2407O, 24" LED open frame monitor to replace the traditional CCFL backlit FWT-2407O.  With greater viewing angles along with a better contrast ratio, this monitor is definitely a better fit for any application, whether it is just an open frame, touch screen monitor or digital signage application.



Test an LWT-2407O unit today and for more information, please go to www.caltronind.com or contact a Caltron sales representative by calling 510-440-1800 or by email: sales@caltronind.com



Summary:

Caltron releases the LWT-2407O, 24 inch wide LED open frame monitor to replace the FWT-2407O.  It can be used in open frame or touch screen monitor appropriate applications.

More from Food Processing & Preparation