Op Amps have boost voltage.
Press Release Summary: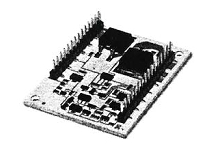 PA38 and PA39 high voltage MOSFET power operational amplifiers are constructed with surface mount components on thermally conductive but electrically isolated substrate. Metal substrate allows PA38 and PA39 to dissipate power up to 125 watts. Power supply voltages range from ±100 Volts (200V total) for PA38 to ±50 Volts (100V total) for PA39. Both have slew rates of 10 V/µs, and incorporate external compensation and 4-wire current sense.
---
Original Press Release:
New Surface Mount Amplifiers Break Barriers For Price And Performance

Apex Microtechnology introduces the PA38 and PA39, cost-effective high voltage MOSFET power operational amplifiers constructed with surface mount components on a thermally conductive but electrically isolated substrate. The metal substrate allows the PA38 and PA39 to dissipate power up to 125 watts and their power supply voltages can range up to +/- 100 Volts (200V total) for the PA38, +/-50 Volts (100V total) for the
PA39 both with a high slew rate of 10 V/µs.

While keeping the cost low, the PA38 and PA39 offer many of the same features and performance specifications found in more expensive hybrid power amplifiers. Without the pre-limitations of hybrid packages the PA38 and PA39 feature external compensation, four-wire current sense, boost voltage, and strapable class cooperation for improved efficiency.

Key Specifications for the PA38 and PA39
Model Supply Output Power
TOTAL CONT Dissipation Efficiency VBOOST
PA38 200V 10A 125W [Vs-5.5V] @ 1.0A Yes
PA39 100V 10A 125W [Vs-5.5V] @ 1.0A Yes

Key Applications for the PA38 and PA39:
* Linear and Rotary Motor Drives * Programmable Power Supplies * High Voltage Instrumentation
More from Computer Hardware & Peripherals