Op-Amp offers 10 MHz, 10 V/µs, rail-to-rail I/O performance.
Press Release Summary: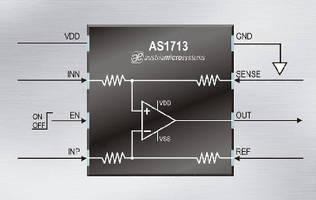 Operating from single +2.7 to +5.5 V supply, Model AS1713 can swing to within 100 mV from rails while sinking or sourcing 50 mA of output current, making it suitable for headphone drivers and audio line receivers and buffers. Large short time loads are supported by peak output current of more than 200 mA. Requiring 1.6 mA of supply current and only 1 nA while in shutdown, amplifier offers fixed differential voltage gain of 1 and operates in environments ranging from -40 to +85°C.
---
Original Press Release:

astriamicrosystems Introduces High Output Drive, 10MHz, 10V/µs Rail-to-Rail I/O Differential Amplifier



The AS1713 op-amp is ideal for applications like headphone drivers, where the operating environment demands built in rejection of ground interference, infotainment high drive audio line receivers and buffers

Unterpremstaetten, Austria (March 26, 2009) - austriamicrosystems (SIX: AMS), a leading global designer and manufacturer of high performance analog ICs for communications, industrial, medical and automotive applications, announced today the introduction of the operational amplifier AS1713, a high output differential line receiver. With a 10MHz, 10V/µs, rail-to-rail I/O performance the device is ideal for audio applications such as headphone drivers and audio line receivers and buffers.

The AS1713 operational amplifier operates from a single +2.7V to +5.5V supply and can swing to within 100mV from the rails while sinking or sourcing 50mA of output current. Large short time loads, common in various applications such as in audio amplification, are supported by a peak output current of >200mA. The AS1713 requires only 1.6mA of supply current and remarkable 1nA while in shutdown.

The AS1713 offers a fixed differential voltage gain of 1. Internal matched resistors reduce external component count and costs. Flexible interconnections support external gain setting and adjustments in other applications.

In addition the trimmed resistor network allows the part to be used as a low cost general purpose instrumentation amplifier. Gain and impedance conversion may be provided by adding an external dual amplifier to create the classic three amplifier IA (instrument amplifier) structure.

"With its excellent signal performance and flexible access to the internal matched resistors, the AS1713 is ideal for a variety of low distortion signal processing applications," said Bruce Ulrich, Marketing Director Standard Linear at austriamicrosystems.

The AS1713 is available in a MLPD (2x2)-8 package suitable for operating environments ranging from -40°C to +85°C. For product specific information, to download data sheets or to request free samples from austriamicrosystems' online shop ICdirect, please visit
www.austriamicrosystems.com/OperationalAmplifier/AS1713 .

About austriamicrosystems

austriamicrosystems is a leading designer and manufacturer of high performance analog ICs, combining more than 27 years of analog design capabilities and system know-how with its own state-of-the-art manufacturing and test facilities. austriamicrosystems leverages its expertise in low power and high accuracy to provide industry-leading
customized and standard analog products. Operating worldwide with more than 1,000 employees, austriamicrosystems focuses on the areas of power management, sensing and mobile entertainment in its markets Communications, Industry & Medical and Automotive, complemented by its Full Service Foundry activities. austriamicrosystems is listed on the SIX Swiss Exchange in Zurich (ticker: AMS).

For further information

Press Contact

austriamicrosystems AG

Ulrike Anderwald

Marketing Communications Manager

Tel: +43 (0) 3136 500 5856

Fax: +43 (0) 3136 500 5420

press@austriamicrosystems.com

www.austriamicrosystems.com

Technical Contact

austriamicrosystems AG

Rene Wutte

Marketing Manager Standard Linear

Tel: +43 (0) 3136 500 5653

Fax: +43 (0) 3136 500 5420

rene.wutte@austriamicrosystems.com

www.austriamicrosystems.com

More from Fluid & Gas Flow Equipment