One Piece Padlock Seal targets airline and catering companies.
Press Release Summary: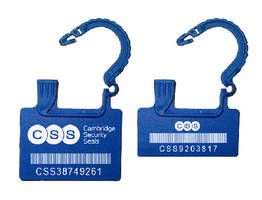 Designed with secure locking chamber, One Piece Padlock can be used by airlines to detect and deter tampering in variety of areas, including catering and beverage carts. Single-use unit is manufactured using high-grade polypropylene and offers 2 tab size options which provide large printing surface area. Customers can select from full range of colors, choose hot stamping or laser printing, and add logos, barcodes, and alphanumeric numbering sequences.
---
Original Press Release:

Cambridge Security Seals to Unveil Brand New One Piece Padlock Seal at the World Travel Catering and Onboard Services Show



New seal joins CSS's popular tear-away adjustable seal to expand tamper-evident sealing options for airlines and catering companies



POMONA, New York, -- Cambridge Security Seals (CSS), a global quality leader in tamper-resistant and loss prevention seals, will officially launch its One Piece Padlock Seal on April 14, 2015 at the World Travel Catering & Onboard Services show in Hamburg, Germany. 



The One Piece Padlock (OPP) is designed with a secure locking chamber and several enhanced features to expertly address the needs of those airline and catering companies who prefer a padlock style seal to CSS's MPT adjustable pull-tight seal with tear-off feature.  The single-use seal is commonly used by airlines to detect and deter tampering in a variety of areas, including catering and beverage carts.  The OPP is manufactured using high-grade polypropylene, and features the durable construction that is the hallmark of all CSS security products.



According to Brian Lyle, Vice President of Cambridge Security Seals, the new OPP seal design was heavily influenced by customers who worked with CSS to develop the new product and features.  "We set out to construct a seal that reflected the wants and needs of the industry," explained Lyle.  "The One Piece Padlock, with its distinctive features, is a direct answer to the specifications requested by some of the most demanding airline and catering customers in the world."



The OPP's customer-driven features begin with a design that enables user-friendly single-hand application and removal, and a durable construction perfectly suited for rigorous catering and beverage cart use. But what truly differentiates the OPP is the choice of two different tab size options which provide the largest printing surface area of any padlock seal on the market.



"A common refrain we heard from customers was that existing padlock style seals did not allow them to print as much content as they desired," revealed Lyle. "To address this need, we designed the OPP with expanded printing surface options, which makes it ideal for anyone wishing to include any combination of company name, logos, seal numbers, large barcodes, and any additional information."



As with all CSS products, the OPP features an extraordinarily wide variety of customizable options. Customers can select from a full range of colors, add their logos, barcodes, alphanumeric numbering sequences, and any other information they desire on the seal. CSS offers both hot stamp and laser printing options to ensure the highest quality visual result.  The OPP also features CSS's distinctive  compact packaging, which reduces both freight and warehousing costs for its customers.



But the market cried out for more than just the seal quality and enhanced features, claimed Lyle.  "We heard over and over again that the lead times for custom seals were simply far too long, so we challenged ourselves to build our production and infrastructure at CSS to deliver the quickest turnarounds in the industry."



According to Lyle, CSS is committed to developing updated and enhanced solutions for common unresolved security seal issues.  Over the past several years, CSS has introduced a wide range of higher performance seals, including its extensive line of Heavy Duty, Medium Duty, and Light Duty Pull-Tight Seals, Twin Tote Seals, One Piece Seals, along with enhancing the company's staple product, its Plastic Truck Seal.



Elisha Tropper, CEO of Cambridge Security Seals, describes the company as focused around "customer-centric innovation".  Tropper notes that "the improved products and continued growth of CSS is testament to the efforts and dedication of our extraordinary employees and the company's commitment to build a world-class manufacturing and development operation."



Cambridge Security Seals is one of the fastest growing security seal companies in the world. CSS services an increasingly diverse customer base spanning a variety of industries, including airlines, freight, logistics, distribution, trucking, retail, cash handling, rail transportation, government, pharmaceutical, food and beverage, medical, and agriculture.



About Cambridge Security Seals

Cambridge Security Seals, a privately-held enterprise headquartered in New York, offers an extensive line of tamper evident, tamper resistant, and high-security loss prevention seals to customers across a wide range of industries. The company's 67 year legacy of dedication to uncompromising quality, dedicated customer service, and outstanding value provides a blueprint for reliability and security.



Cambridge Security Seals' commitment to technology, quality standards, environmental responsibility, and attention to detail fuels its drive to provide security-conscious customers with the products and services they demand from an industry leader.



The backbone of Cambridge Security Seals is a diversified team of technical experts and business professionals, including experienced engineering, design, production, and logistics specialists. This unique blend of management and production expertise enables the company to provide an unmatched level of value. For more information about Cambridge Security Seals, please visit http://www.cambridgeseals.com.



Contact:

Monica Feffer

845-520-4111

mfeffer@cambridgeseals.com

Related