One-Piece Bottle Closures suit hot fill applications.
Press Release Summary: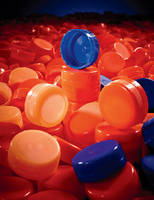 Designed to virtually eliminate finish distortion in hot fill applications, DoubleSeal(TM) Caps provide tamper evidence and anti-sabotage protection, whereby band breaks before seal is broken. Units feature 2-in-1 outer plus inner seal in single, liner-less cap that delivers lateral, opposing force pressure from both outside and inside, effectively supporting instead of distorting neck. Unlike 2-piece closures that break at 20% rotation point, DoubleSeal HDPE caps break in excess of 120%.
---
Original Press Release:

BERICAP Reaches North American Commercial Market with One-piece Hot Fill Closure



Advanced technology virtually eliminates finish distortion

Toronto, Canada - BERICAP North America announced today that its exclusive DoubleSeal(TM) cap technology is now commercially available in the North American market. The design is considered unique for hot fill applications since it will support, rather than distort, the finish when compared to traditional two-piece closures that cannot hold the finish when softened by hot filled product.

DoubleSeal provides advanced tamper evidence and anti-sabotage protection, whereby the band breaks before the seal is broken. Better seal integrity, easier opening capability and improved economics complete a dynamic new offering.

"Traditional two-piece liner-and-shell top seal closures require considerable torque in order to properly seal the container," explains Dave Andison, President and Chief Operating Officer of BERICAP North America.

"In hot fill applications, the bottle neck is softened by the heat from the product itself. Consequently, the side and down-pressure from applying the closure puts considerable stress on the bottle finish. This can cause it to distort or ovalize, which can lead to leaking and product contamination."

One-piece cap technology leads the way for lighter bottles

BERICAP's DoubleSeal features a 2-in-1 outer plus inner seal in a single, liner-less cap. Instead of down pressure during the sealing process, DoubleSeal caps provide lateral, opposing force pressure from both the outside and inside - effectively supporting instead of distorting the neck - which also results in a superior seal compared to the traditional two-piece method.

"The chances of having a 'leaker' with DoubleSeal caps are virtually nil," Andison asserts. "That's just one advantage of this product for industry users. The thicker walls employed to combat distortion from two-piece closures can be slimmed down dramatically.

"Currently, the neck finishes in a typical 20-oz. hot fill container are about 95/1000 of an inch thick. Depending on the customer's filling process, we could go down to 50/1000 of an inch. This is nearly 50 percent less with no sealing problems whatsoever."

The seal integrity for a product is another area where DoubleSeal offers improvement. In most traditional two-piece closures, it breaks at a 20 percent rotation point, but with BERICAP's technology it is in excess of 120 percent.

Andison said there are other benefits that make DoubleSeal an attractive solution.

"A 95 to 50/1000-inch finish reduction will save about three grams of plastic, or 10 percent of the 30 gram total in a typical 20-oz. bottle. This means much less material going into bottles, and which needs to be dealt with post-usage. This achieves a reduction in the energy used to produce the bottles, resulting in a reduced carbon footprint and greenhouse gas emissions. The sustainability benefits cascade throughout the process.

"Our liner-less technology offers similar sealing advantages in cold fill, water and other applications. But with hot fill, DoubleSeal cap distortion prevention offers an opportunity for finish reduction that I consider an even greater plus."

Fits easily into existing lines; injection-molded HDPE ensures cap integrity

Although the design, testing, validation and production of reduced plastic neck finishes won't happen overnight, Andison said hot fill users can take advantage of DoubleSeal capping benefits immediately.

"Our system can fit smoothly into existing hot fill operations and very little capital investment. The changeover from two-piece equipment can be accomplished with very little production downtime, typically in less than a day."

Output quality is further assured by BERICAP's injection-molded production of DoubleSeal caps. "Unlike compression molding two-piece closure shells that are used with liners, injection molding provides much more control over critical features, ensuring dimensional stability and the integrity of every cap," Andison said.

DoubleSeal caps are made with HDPE (High Density Polyethylene) rather than polypropylene (PP) that is used in typical two-piece shells. The improved barrier protection from oxygen permeation is due to the use of HDPE, which has a longer orientated molecular chain, and to the extremely tight seal it provides.

In addition, Andison notes there is an economic benefit as well. "HDPE comes from cracking natural gas, whereas PP comes from cracking liquid. As hydrocarbon resources become more scarce, PP will continually compete with gasoline and other users for supply. HDPE will not."

Proven technology worldwide

Although newly commercialized with an isotonic category leader in North America, Andison said BERICAP's liner-less technology is already proven and popular in both hot fill, aseptic and cold fill applications globally.

"DoubleSeal has performed very well in line trials and internal sampling among prospects," acknowledged Andison. "Along with major hot fill providers, we're happy to have entrepreneurial customers come to us. It's an opportunity for them to leverage the advantages of DoubleSeal technology in putting their product on the market, and to differentiate themselves from competitors."

About BERICAP

BERICAP GmbH & Co. KG is a leading global supplier of plastic closures with 21 manufacturing facilities in 19 countries. The company produces a wide range of consumer packaged goods, commercial and industrial products. Find additional details on BERICAP and its products at www.bericap.com.

More from Fluid & Gas Flow Equipment