OmegaBrandess Introduces Shanny SN600FGZ with Heat Protection and Sound Prompt
Press Release Summary: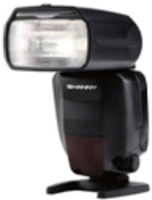 OmegaBrandess introduces the Shanny SN600FGZ with an auto zoom range of 20-200mm along with a manual zoom option. Shanny SN600FGZ provides various flash modes such as P-TTL, M, Multi with a HSS of 1/8000s. It also offers quick flash in less than 2 seconds and an ordinary flash in fewer than 3 seconds.
---
Original Press Release:
OmegaBrandess Introduces Shanny SN600FGZ Flash for Pentax
Hampstead, Maryland – June 14, 2018 - As the exclusive distributor for Shanny products in the United States, OmegaBrandess is proud to introduce the Shanny SN600FGZ TTL Flash for Pentax cameras
Key Features of the SN600FGZ:
Guide Number:GN60(ISO100,200mm)
HSS:1/8000s
Flash Mode:P-TTL/M/MULTI
Trigger mode:On-camera、optical flash
Zoom Range:20-200mm Auto and Manual Zoom (14mm with wide-angle diffuser)
Optic Wireless Mode:S1 & S2 Basic Optic Slave Modes; Manual Mode Only
Sync Mode:HSS, 1st Curtain Sync / 2nd Curtain Sync
FEC:Support 1/3rd Increments (±3 stops)
FEB:Support
FEL: Support
Modeling Flash:Support
AF Assist Light:Support
Manual Flash:1/128 – 1/1 output control (1/3rd increments)
Frequency Flash:1~100Hz
Full power recycle:Quick flash less than 2s, ordinary flash less than 3s.
Optical Transmission Distance:About 20m
Sync Port:External Battery Port/ PC Sync Port/ Standard Hot Shoe
Battery:4 AA Size Alkaline or Ni MH batteries 100-700 times
Other Features: Sound Prompt/ Heat Protection/ Large Clear Dot Matrix LCD Screen/ LCD Back Light Can be Kept on/ Fast     Clamping Metal Foot with Locking Pin( and Clamps Well)
Dimensions: 79.7*142.9*125.4 MM
Weight:420 Grams( Not Including Batteries)
Pricing
The manufacturer's suggested retail price is $192.99.
Warranty
All Shanny products distributed by OmegaBrandess come with a 1 year warranty against defects in manufacture.  Service available through OmegaBrandess Distribution.
For more information on Shanny products offered by OmegaBrandess, go to http://www.omegabrandess.com/products/Shanny
About Shanny
Started in 2013, Shanny kicked off with an impressive start on the market, introducing a series of flash and radio triggers.
Our mission is to deliver high quality products with competitive prices to our customers.
We continue developing new products aiming to provide affordable and quality equipment to meet the needs of professional and amateur photographers worldwide.
About OmegaBrandess
OmegaBrandess has manufactured and distributed photographic and imaging products for over 75 years. A privately held company, OmegaBrandess supplies the photography industry with over ten thousand products from dozens of branded lines. For more information about OmegaBrandess and its represented brands, call 410-374-3250 or visit www.omegabrandess.com.
More from Material Processing