OMAX® to Showcase Fast, Accurate and Versatile Waterjet Technology at FEIMAFE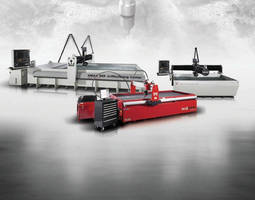 Attendees to discover company offers broadest range of advanced waterjet solutions on the market



KENT, Wash. – OMAX Corporation will showcase the latest innovations in abrasive waterjet technology at FEIMAFE 2013, taking place June 3 - 8 in São Paulo, Brazil. In Booth M14 at the Anhembi Exhibition Pavilion, the company will demonstrate two of its small footprint waterjets, the premium OMAX 5555 JetMachining® Center with a Tilt-A-Jet® cutting head and versatile MAXIEM® 1530 JetCutting Center.



The OMAX 5555 is a robust, reliable cantilever-style abrasive waterjet machine that easily handles a wide range of production runs across various industry segments. A perfect fit for space-challenged facilities, the 5555 can cut complex parts up to 1.2 meters by 1.2 meters in size from a variety of materials and thicknesses, including advanced composites, exotic alloys, traditional metals and rubber.



With the Tilt-A-Jet accessory, the OMAX 5555 is able to achieve zero taper for precision cutting of high tolerance parts with square edges, including interlocking pieces and dovetail fittings. Through the control software, the Tilt-A-Jet automatically calculates and adjusts the angle of the nozzle to accurately remove the natural taper from the finished part by transferring it to the scrap material - all while maintaining extremely high cutting speeds.



The MAXIEM 1530 features a compact footprint of 4.2 meters by 2.5 meters, making it well suited for smaller fabrication shops and metal service centers. It cost-effectively cuts highquality simple and complex parts from most materials, including metal, plastic, ceramic, stone and composites, within a 3 meters by 1.6 meters X-Y cutting travel area. The parts are cut directly from the plate with a single tool to reduce set-up time and material usage.



Available in a variety of horsepower options, the EnduroMAX® Pump featured on the OMAX 5555 and high-pressure direct-drive pump used on the MAXIEM 1530 offer fast part-processing speeds and low operating costs. The company engineered both of these pumps to provide more horsepower to the machine's cutting nozzle and enhance operational efficiencies.



Both the OMAX 5555 and MAXIEM 1530 utilize the company's intuitive Intelli-MAX® Software Suite that provides faster, more precise and more accessible machining than competitive abrasive waterjet systems. With its patented motion control technology, the revolutionary Intelli-MAX Software ensures the fastest and most accurate waterjet cutting across a wide range of materials. The latest version of the software meets the growing trend of manufacturers processing 3D components by supporting up to six axes of coordinated motion. Software upgrades are available to all existing OMAX and MAXIEM owners.



With so many diverse offerings in its product portfolio, OMAX Corporation offers the broadest range of table sizes, pumps, accessories, software and support on the market. Moreover, the company's abrasive waterjet technology provides a flexible and beneficial alternative to conventional machining operations. In fact, with OMAX waterjet technology, manufacturers can accomplish quick turnaround of accurate parts without the hassle of tool changes or complex fixturing, as well as achieve smooth surface finishes without the need for secondary machining.



As OMAX Corporation's distributor for Brazil, Weld Vision will represent the OMAX and MAXIEM product lines at FEIMAFE 2013. To learn more about this distribution partner, please visit www.weldvision.com.br.



About OMAX

OMAX® Corporation designs and manufactures the world's most advanced abrasive waterjet technology in a variety of table sizes and price points at its headquarters in Kent, Washington. Backed by unmatched support and powered by the company's intuitive control software, OMAX JetMachining® Centers and MAXIEM® JetCutting Centers bring affordable performance to a continuously expanding range of industries. For more information on MAXIEM products and accessories, contact Sandra McLain at 1-253-796-3450 or visit www.omax.com.

More from Agricultural & Farming Products