OMAX® Corporation to Spotlight All-New MAXIEM® 1530 at Global Petroleum Show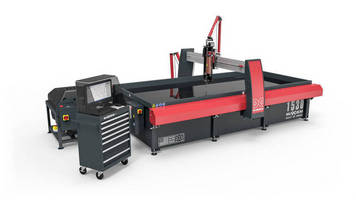 Abrasive waterjet system brings performance and value to oil and gas part production



KENT, Wash. – At the 2014 Global Petroleum Show, June 10-12 at Stampede Park, Calgary, Alberta, Canada, OMAX Corporation will showcase its all-new next generation MAXIEM 1530 JetMachining® Center paired with an A-Jet® 5-axis cutting head and efficient 40 hp direct drive pump in booth 1694. Attendees will learn how the company's advanced abrasive waterjet technology can cost-effectively produce quality parts without heat-affected zones, which is often a requirement of the oil and gas industry.



Well suited for high-volume fabrication shops and metal service centers, the MAXIEM 1530 has an X-Y cutting travel of 3 meters by 1.5 meters (10 feet by 5 feet 2 inches). Through the company's Intelli-MAX® Software Suite and direct drive pump technology, the 1530 easily machines steel, titanium, and other metals as well as challenging materials such as composites and laminates with no delamination. Furthermore, the machine cuts parts directly from multiple materials with a single tool to reduce set-up time and material usage.



With the A-Jet cutting head accessory, the MAXIEM 1530 produces precise angled cuts and bevels while automatically correcting for the taper normally found in an abrasive waterjet cut. The A-Jet adds two motion axes, enabling the nozzle to tilt over a range of 0 degrees to 60 degrees from the vertical position for 5-axis cutting. It can also easily cut countersunk holes and machine parts with complex geometries. With its additional axes of motion, the A-Jet allows production of beveled edges in preparation for welding operations.



OMAX Corporation offers the broadest range of table sizes, pumps, accessories and software on the market - all backed by an unbeatable support program. Moreover, the company's abrasive waterjet technology provides a flexible and beneficial alternative to conventional machining operations. In fact, with OMAX Corporation's abrasive waterjet technology, manufacturers can accomplish quick turnaround of accurate parts without the hassle of tool changes or complex fixturing as well as achieve smooth surface finishes without heat-affected zones or the need for secondary machining.



About OMAX

OMAX® Corporation designs and manufactures the world's most advanced abrasive waterjet technology in a variety of table sizes and price points at its headquarters in Kent, Washington. Backed by unmatched support and powered by the company's intuitive control software, OMAX and MAXIEM® JetMachining® Centers bring affordable performance to a continuously expanding range of industries. For more information on OMAX products and accessories, contact Sandra McLain at 800-838-0343 or visit www.omax.com.  

More from Software