Oil/Water Separation Unit suits offshore oil/gas industry.
Press Release Summary: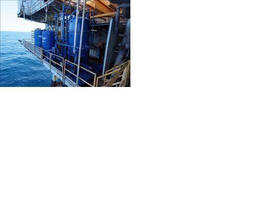 Vorsep floatation system removes oil from produced and wastewater streams before they are discharged, reused, or injected. System can handle standard operating environments or environments that experience extreme movement, such as floating platforms. Design incorporates head-in-head arrangement that reduces turbulence at removal point from vessel by reducing surface area; reduces water carried with removed oil; and maximizes oil removal efficiency.
---
Original Press Release:

Siemens' New Compact Flotation Unit Offers Smaller Footprint, Lighter Weight for Offshore Applications



Warrendale, Pennsylvania, Jan 19, 2009 - Siemens Water Technologies is launching a new, compact oil/water separation unit to the offshore oil and gas industry. The new Vorsep system incorporates several unique methods for removing oil from produced and wastewater streams before they are discharged, reused, or injected. The unit reduces inventoried water in the system and is therefore compact and lightweight, ideally suited for offshore applications where footprint and weight are critical.

The new Vorsep compact flotation unit is designed for compact, lightweight oil/water separation applications in onshore and offshore oil and gas applications.

The Vorsep system can reduce the residence time necessary for separation by 80 percent or more, relative to standard flotation systems. This separation efficiency results in reducing the inventoried water in the system by the same percentage as the residence time, resulting in a system optimized for footprint and weight without reducing effectiveness. Footprint and weight are critical factors on offshore platforms where reduced space and lighter loads can mean lower cost to operate the platform. As oily water feed enters the Vorsep unit, it flows through our proprietary Brise pump installed in the inlet piping to the vessel. The pump initiates dissolved gas mixing in the oily water. The gas-filled feed is accelerated by angled pipes to generate a vortex-induced separation of the incoming liquid. This motion created in the Vorsep system by the inlet angle results in accelerating the separation forces, improving removal efficiency. As the oil droplets grow due to the voraxial motion, the dissolved gas is released, forming micro-bubbles that aid and accelerate flotation of the oil to the surface. The rising oil droplets coagulate at the surface and are skimmed from the water. Clean effluent flows from the Vorsep system ready for discharge, reuse, injection, or further treatment. The Vorsep system is designed to handle standard operating environments or environments that experience extreme movement, such as floating platforms (Spar, TLP, FPSO). Extreme movements in these applications result in potential turbulent environments within the vessel causing excess water to be removed with the oil if based on a standard oil removal system. Our design incorporates the proven "head-in-head" arrangement that reduces turbulence at the removal point from the vessel by reducing the surface area; reduces the water carried with removed oil; and maximizes oil removal efficiency.

Further information about solutions for water treatment are available at www.siemens.com/water

The Siemens Industry Sector (Erlangen, Germany) is the world's leading supplier of production, transportation, building and lighting technologies. With integrated automation technologies as well as comprehensive industry-specific solutions, Siemens increases the productivity, efficiency and flexibility of its customers in the fields of industry and infrastructure. The Sector consists of six Divisions: Building Technologies, Drive Technologies, Industry Automation, Industry Solutions, Mobility and Osram. With around 222,000 employees worldwide Siemens Industry posted in fiscal year 2008 a profit of EUR3.86 billion with revenues totaling EUR38 billion. www.siemens.com/industry

With the business activities of Siemens VAI Metal Technologies, (Linz, Austria), Siemens Water Technologies (Warrendale, Pa., U.S.A.), and Industry Technologies, (Erlangen, Germany), the Siemens Industry Solutions Division (Erlangen, Germany) is one of the world's leading solution and service providers for industrial and infrastructure facilities. Using its own products, systems and process technologies, Industry Solutions develops and builds plants for end customers, commissions them and provides support during their entire life cycle.

With around 31,000 employees worldwide Siemens Industry Solutions achieved an order intake of EUR 8.4 billon in fiscal year 2008 (preliminary and unaudited).

Further information and downloads at: http://siemens.com/industry-solutions

More from Laboratory and Research Supplies and Equipment