Oil Skimmer is solar powered for remote environments.
Press Release Summary: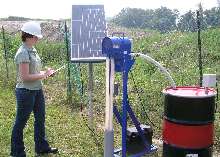 PetroXtractor Solar Skimmer removes oil, fuel, and other hydrocarbons from groundwater using recovery or monitoring wells. Choice of 3 belt widths allows use in 2, 4, or 6 in. dia well casings. With widest belt size, unit removes up to 12 gal of floating oil per hour. Belt lengths can be customized for well depths of 100+ ft, assuring hydrocarbon removal even when water level fluctuates. Stainless steel housing is available.
---
Original Press Release:

Solar-Powered PetroXtractor Oil Skimmer Provides "Unplugged" Cleanup of Oil Contamination From Groundwater


Cleveland, OH, July 26, 2004--- Abanaki Corporation, the world leader in oil skimming products, has released an innovative new design for its PetroXtractor oil skimmer that includes solar-powered capability for the even the most remote environments.

The PetroXtractor Solar Skimmer is designed to remove oil, fuel and other hydrocarbons from groundwater using recovery or monitoring wells. The solar unit allows for unattended remediation in areas where no electricity is available or convenient.

Like the standard PetroXtractor, the new PetroXtractor Solar Skimmer unit comes with any of three belt widths that allow its use in two-inch, four-inch, or six-inch diameter well casings. With the widest belt size, the unit can remove up to 12 gallons of floating oil per hour. Belt lengths can be customized for well depths of 100 feet or more, which assures hydrocarbon removal even when the water level fluctuates. The lower belt pulley is tethered to the drive unit to prevent accidental loss in the well casing.

The unit provides its users with significant advantages:

· electrical cables do not have to be run down the casing to a pump -- the solar motor of the PetroXtractor is located above ground and can run continuously without the need for a sensor;

· costly electrical lines do not have to be run to the site;

· no generators or hydraulic power packs are needed;

· the belt design provides skimmed products with less water in it compared to floating suction skimmers or torpedo pumps;

· no screens or strainers are used so the PetroXtractor requires less maintenance than many other types of skimmers.

The PetroXtractor Solar Skimmer can be installed in existing wells by mounting it on a flat surface above the well casing. Other installation options include an above-ground mounting stand and a below-grade manway mounting kit. To resist severe weather conditions, a 316 stainless steel housing is available, as well as a reinforced poly shelter for durable protection of the skimmer. Skimmer use consists of merely lowering the belt and tail pulley into the casing until the pulley is fully immersed, placing the discharge hose in a container, and switching the unit on.

The unit can be used anywhere where there is an average of four hours of sun per day but is designed to run constantly for five days without sun. Its standard configuration comes equipped with electronic control circuitry regulating electrical discharge as well battery charging. A float switch is available that fits through a ¾-inch diameter bung hole on a 55-gallon drum, which can be used to turn off the skimmer when the drum is full. Abanaki also offers a 24-hour timer that can be used to start and stop the PetroXtractor Solar Skimmer at specified intervals.

As with all Abanaki oil skimmers, the PetroXtractor Solar Skimmer has been designed for many years of trouble-free service. Belts are made of a specially engineered polymer including the unique "fuzzy" belt for light fuel oils. A tough power train keeps the PetroXtractor Solar Skimmer running under the most severe conditions.

ABOUT ABANAKI CORPORATION

The PetroXtractor Solar Skimmer is just one of many industry-leading products from Abanaki Corporation. Abanaki Corporation manufactures oil skimmers and other pollution control equipment that helps waste generators deal with their cradle-to-grave responsibilities in the use of oils, greases, solvents, and related hydrocarbons. Skimmer models are available with removal rates up to 200 gallons per hour. Use of Abanaki equipment often allows water and oil to be recycled, thus avoiding contingent liabilities and costs associated with disposal. Besides off-the-shelf oil and grease skimmers, Abanaki supplies custom designed (turnkey) pollution control systems for a wide variety of applications. Headquartered in Cleveland, Ohio, Abanaki has served a global customer base in industries as diverse as iron and steel, wastewater, paper, food processing, automotive, environmental remediation, and recycling for more than 30 years.

For more information about the PetroXtractor Solar Skimmer or other Abanaki products, contact Chris Ott at (440) 543-7400 or (800) 358-SKIM (7546), or by e-mail: cott@abanaki.com. See the full-line of Abanaki products and services online at www.abanaki.com.

More from Electrical Equipment & Systems