Oil-Immersed Capacitors offer low stray inductance/losses.
Press Release Summary: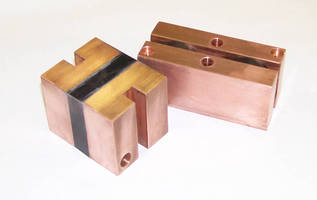 Measuring 1 7/8 x 1½ x 1½ in. and weighing 0.9 lb, CHGOIL5XXX series mounts with two ¼ or 6 mm bolts on 1½ in. mounting footprint. Capacitors in CHLOIL5XXX series, measuring 2¾ x 1 3/16 x 1¼ in. and weighing 0.7 lb, mount with 2¼ or 6 mm bolts on 5/8 in. footprint. Both conduction-cooled, metallized polypropylene capacitors are available in 0.05-2.4 µf and operate continuously at 1,000 Vrms and 400 kHz, generating 250 kVAr. At lower voltages, they operate at frequencies up to 1 MHz.
---
Original Press Release:

High-Frequency, High-Power, Oil-Immersed, Conduction-Cooled, Low Stray Inductance, Metalized Polypropylene Capacitors



High Energy Corporation has announced the first line of high-frequency, high-power, oil-immersed and conduction-cooled metalized polypropylene robust capacitors with extremely low stray inductance and losses that last and last beyond expectations. "These new patent-pending capacitors, featuring a unique method to keep oil inside and outside the capacitor winding without leaking, combine the benefits of oil-immersed windings and conduction-cooled mounting in a small, easy-to-install package," said Dr. George Georgopoulos, President and CEO of High Energy Corp. "Our new capacitors also have a 25% higher power rating and better dependability when compared to others."

High Energy Corporation's new patent-pending CHGOIL5XXX and CHLOIL5XXX series capacitors are available in 0.05 to 2.4 microfarads for heat treating, brazing, welding, plasma and other power supply applications. These robust capacitors can operate continuously at 1000 Vrms and 400 kHz generating 250 kVAr. At lower voltages, they can operate at frequencies as high as 1 MHz. CHGOIL5XXX series capacitors are designed to be mounted with two ¼ or 6 mm bolts on a 1-½ inch mounting footprint. These capacitors are 1-½ inches wide by 1-½ inches high by 1-7/8 inches long and weigh 0.9 lbs. CHLOIL5XXX series capacitors are designed to be mounted with two ¼ or 6mm bolts on a 5/8 inch mounting footprint. These capacitors are 1-3/16 inches wide by 1-¼ inches high by 2-¾ inches long and weigh 0.7 lbs. Custom values and custom package configurations are available upon request.

High Energy Corp. is the foremost manufacturer of high voltage oil-filled and ceramic capacitors used in a wide range of industrial and commercial applications. The company manufactures capacitors for use in high voltage power supplies, X-ray equipment, broadcast equipment, induction heating machinery, cable fault finders and for other high voltage and high current applications. It offers high frequency capacitors for use in high power tube type induction generators, and solid state inverters. High Energy Corp. is located in Parkesburg, Pennsylvania, in picturesque Pennsylvania Dutch Country, 40 miles west of Philadelphia. The company has recruited and trained a dedicated, skilled work force drawn from the local population.

For more information, contact High Energy Corp., PO Box 308 / Lower Valley Road, Parkesburg, PA 19365. Ph: 610-593-2800, Fax: 610-593-2985, E-mail: sales@highenergycorp.com, Web site: www.highenergycorp.com