Oil-Free Air System meets ISO standards.
Press Release Summary: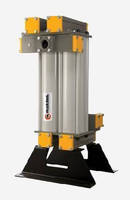 Combining oil-lubricated compressor with high-efficiency coalescing filters and advanced adsorption filter, Absolute Zero Oil-Free Air System generates oil-free air that meets ISO 8573-1:2010 Class 0 or ISO 8573-1:2010 Class 1 standards. Adsorbent fill technique achieves maximum packing density and prevents attrition, while modular construction facilitates future expansion. System is suited for use in food and beverage, pharmaceutical, and semiconductor manufacturing industries.
---
Original Press Release:

Mattei Launches Revolutionary Oil-Free Air System



Randallstown, MD – Mattei Compressors, Inc. is pleased to announce its latest innovation, the Absolute Zero Oil-Free Air System, which utilizes highly advanced filtration equipment, in conjunction with a Mattei oil-lubricated compressor, to generate oil-free air that meets ISO 8573-1:2010 Class 0 or ISO 8573-1:2010 Class 1 standards.



The Absolute Zero Oil-Free Air System packages a Mattei oil-lubricated compressor with high-efficiency coalescing filters and an advanced adsorption filter. The coalescing filters reduce oil aerosols while the adsorption filter decreases oil vapors, thereby allowing the Absolute Zero System to provide oil-free air that meets ISO 8573-1:2010 Class 0 standards for oil content.



This recent development means consumers can now achieve the highest quality of compressed air through the use of oil-lubricated compressors, which offer a number of significant advantages over traditional oil-free systems.  Lubricated, rotary vane compressors, for which Mattei is renowned, are exceptionally durable, as much as 15 percent more energy efficient, and up to 50 percent less expensive than traditional oil-free compressors.



This innovative new technology will allow companies in industries that require oil-free systems—such as food and beverage, pharmaceutical and semiconductor manufacturing—to save costs, energy and other resources by employing oil-lubricated systems that are now authoritatively oil-free. With its unique adsorbent fill technique to achieve maximum packing density and preventing attrition, modular construction with small footprint and simple future expansion, and convenient maintenance through easy-to-change cartridges, the Absolute Zero System is suitable for a variety of applications across all industries.



To learn more about Mattei's Absolute Zero Oil-Free Air System, please contact us today.



About Mattei Compressors, Inc.

Mattei Compressors, Inc. pioneered the development of the rotary vane compressor in 1958. Since then, our machines have been utilized worldwide, in nearly every market and industry, to successfully deliver clean, dry air. Throughout the years, we have maintained our commitment to continually enhance our proprietary rotary vane technology in order to provide our customers with the best products for their unique compressed air needs.



Press Contact

Jay Hedges

President

Mattei Compressors, Inc.

(410) 521-7020

jhedges@matteicomp.com



More from Packaging Products & Equipment