Ogura Clutches Available with Custom Shafts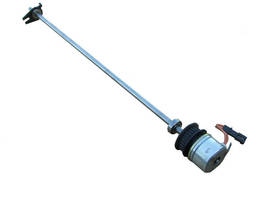 The MC style electromagnetic clutches from Ogura Industrial Corp. are available with custom shafts to meet your application requirements. Shafts are normally provided in 400 series stainless but other materials are available. The MC series clutches on these shafts are typically ball bearing mounted for both the field assembly and the timing pulley input providing long life. Various input timing pulleys are available.

Shaft ends can be configured to meet customer requirements such as D flats and snap ring grooves. Rollers, bearings and bearing supports can also be provided to meet customer requirements. These preassembled sub assemblies make it easier and faster for customers to build their machines. Primary applications for these sub assemblies are for document handling in business and office machinery.

Theses clutches are only a small part of over 3,000 different clutch models that Ogura has available. If this clutch does not meet your needs please contact us at 732-271-7361 and we will assist you in finding one that does or if you prefer please visit our website at www.ogura-clutch.com for immediate information. Ogura Industrial Corporation, Somerset, NJ.


More from Material Handling & Storage