Offline Programming Software suits laser cutting and punching.
Press Release Summary: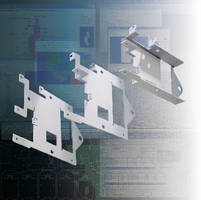 Designed for LVD laser cutting systems and CNC turret punch presses, CADMAN®-L 3D and CADMAN®-P 3D v28 enable users to combine fabricating design and programming functions into single package. Version 28 offers advanced auto-nesting capabilities, import/export nesting, multiple machining functions on single part, and compatibility with Microsoft Vista. Job Explorer feature facilitates structured organization, searching, and moving of part related data within technology database.
---
Original Press Release:

LVD Strippit Releases New Version of Offline Programming Software for Laser Cutting, Punching Applications



Akron, NY -- LVD Strippit has released CADMAN®-L 3D and CADMAN®-P 3D version 28, offline programming software for LVD laser cutting systems and CNC turret punch presses. The new software release provides enhanced functions for laser cutting and punching applications, including an up to 50 percent speed improvement on multi module applications.

CADMAN® is an integrated, PC-based CAD/CAM system that operates on a Windows® platform. It provides a seamless offline programming environment enabling users to combine fabricating design and programming functions into a single package. CADMAN's automatic CAM functions simplify programming and increase the productivity and flexibility of the sheet metal fabrication process.

The latest CADMAN release provides new punching and laser cutting modules within a new, easy-to-use interface with enhanced graphical visualization techniques to offer improved and expanded functionality, including advanced auto-nesting capabilities, import/export nesting; multiple machining functions on a single part;, 'job explorer' and full compatibility with Microsoft Vista.

LVD's new 'job explorer' feature optimizes LVD's 'project tree' principle of storing processing data related to the piece part by allowing the simplified organization of 'job' data. Structured organization, searching and moving of part related data within the technology database is all made easy by 'job explorer'.

CADMAN-L 3D incorporates fully automatic, semi-automatic or manual nesting and optimizes cutting and machine parameters to maximize sheet utilization for laser cutting systems. This software module permits the user to configure lead-ins/lead-outs and allows for cutting path optimization, common line cutting and high-speed communications and networking, thus maximizing machine productivity. New key features of this software module include automatic advanced application of processing technology, enhanced 'processing database' integration between machine and offline software and improved machining order.

The CADMAN-P 3D module for turret punch presses provides automatic tool selection and turret configuration, including the identification of optimum tool stations and turret loading. This software module provides full support for all standard and advanced punching functions, including Auto-Index stations, Multi-Tools, standard and special punches. New CADMAN-P 3D functions include support of a greater range of 'Wheel', scribing and tapping tools; improved and optimized machining order by tool; improved and optimized management of part evacuations (drop door or robot gripper), and improved micro-joint programming.

Both CADMAN-L 3D and CADMAN-P 3D offer a powerful, customizable database management system for storage of parts and sheet layouts, which provides an easy to use tool for the organization and classification of production jobs, inventory tracking and material requirements. Comprehensive reporting capability is available for part manufacturing, material and machine utilization.

ABOUT LVD

The LVD Group is a leading manufacturer of a comprehensive range of sheet metal/plate working machine tools and software solutions, including laser cutting systems, punch presses, press brakes, guillotine shears and mid-level automation systems, integrated and supported by its CADMAN® PC-based Windows® compatible software.
For more information, contact Strippit, Inc., 12975 Clarence Center Road, Akron, NY 14001, call toll free 1-800-828-1527, or visit www.lvdgroup.com.

Related