Off-Grid Solar Power System supports remote equipment.
Press Release Summary: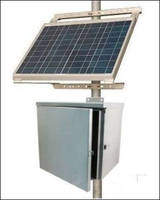 Functioning as solar power generator, Series SPS-PCP enables continuous operation of sensors, meters, and instrumentation in remote areas. Stand-alone system is fully automatic and can provide uninterrupted power for many years without need to replace battery. Delivering 12 and 24 Vdc, each pre-wired system consists of solar panel and mount, cables, solar charge controller, NEMA 3R enclosure, deep-cycle SLA battery, lightning/surge protection module, and power supply/power conditioner.
---
Original Press Release:

Imagine Instruments LLC Announces Off-grid Solar Power System for Remote Monitoring and Wireless Equipment



The Series SPS-PCP Off-grid Solar Power System has been specifically designed to provide continuous power for the operation of sensors, meters and instrumentation remote areas.



Sensors connected to a monitoring instrument and radio transmitter are typically required to measure, record and transmit environmental data such as temperature and water level. The data is collected manually or most often transmitted to a receiving base station. Solar power is used in areas where conventional power is inaccessible or too costly to install. Functioning as a Solar Power Generator, the SPS-PCP series is a stand-alone system powered by the sun's energy to provide 24-hour continuous operation. The system is fully automatic and designed to render years of maintenance free operation.



Principle of Operation:

Energy from the sun is collected by a high efficiency photovoltaic solar module and stored. In general, energy is stored in a lead-acid deep-cycle rechargeable battery. The systems solid-state solar charge controller maintains continuous battery monitoring and temperature compensated charging during daylight hours. Between each charging cycle, the system's battery has sufficient standby power to maintain 24-hour continuous operation for several days. Models are design to provide both 12 and 24 Volts DC power and are available in different capacity models.



The basic system can provide uninterrupted power for many years without the need of battery replacement. Each pre-wired system consists of a solar panel, solar panel mount, solar power cables, solar charge controller, NEMA 3R enclosure, deep-cycle SLA battery, lightning/surge protection module and a power supply/power conditioner.



Applications:

Gas Meters

Flow and Level Monitoring

SCADA and Telemetry Equipment

Industrial Wireless Remote Control

Security Cameras

Wireless Sensors and Repeaters



Link to specifications: http://www.imagineinstruments.com/solar_power_systems_for%20meters_telemetry_instrumentation_spspcb.html



Contact:

Michael Macchiarelli

Imagine Instruments LLC

4500 Williams Drive, Ste 212-318

Georgetown, TX 78633

(512) 778-6850

E-mail: info@imagineinstruments.com

Website: www.ImagineInstruments.com



Related