Octal Ethernet Transceiver is integrated with ARMADA® embedded processors.
Press Release Summary: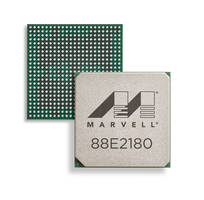 Compatible with IEEE 802.3bz and NBASE-T Alliance℠ specifications for 2.5 and 5 Gbps operation over CAT5e cables, Alaska® M 88E2180 Octal Ethernet Transceiver delivers 2.5/5 Gbps bandwidth for Wi-Fi® network speeds beyond 1 Gbps. Suitable for wireless access points and SFP+ media converters, unit meets IEEE 802.3az Energy Efficient Ethernet standards. Product supports Prestera® 98DX325x switch for 2.5GbE with 2x 40GbE or 2x 25GbE uplinks.
---
Original Press Release:
Marvell Introduces Industry's First 2.5 and 5 Gbps Octal Ethernet Transceiver
Next-generation high-speed device that can be deployed on legacy cable systems accelerates transition to multi-Gigabit Ethernet while addressing power and space constraints
Marvell (NASDAQ:MRVL), a leader in storage, networking, and connectivity semiconductor solutions, today announced the Alaska® M 88E2180 Gigabit Ethernet transceiver, the world's first octal multi-Gigabit Ethernet transceiver compatible with both the IEEE 802.3bz standard and the NBASE-T Alliance℠ specification for 2.5 and 5 Gbps operation over CAT5e cables. This highly sophisticated IC will enable enterprises to quickly and cost-effectively migrate to multi-Gigabit Ethernet networking infrastructure. Marvell will be demonstrating its new Alaska M 88E2180 Gigabit Ethernet transceiver as part of its broad portfolio of solutions for the enterprise market during COMPUTEX in Taipei, Taiwan, from May 30 to June 2.
Modern enterprise campuses are seeing their bandwidth demands increase dramatically, driven by the proliferation of video streaming, the growing need for additional storage and backup, and the continued adoption of cloud-based services. However, many enterprises have installed Ethernet CAT5e cabling typically limited to 1 Gbps. Now, with the Alaska M 88E2180 Gigabit Ethernet transceiver, which can be deployed on existing wired infrastructure, enterprises can benefit from Marvell's new PHY technology that provides data rates up to 5X compared to traditional offerings.
The Alaska devices, part of a broad range of Marvell's Ethernet transceiver families, can be coupled with Marvell's Prestera® switch families to provide a comprehensive solution that is enabling the transition to the multi-Gigabit campus environment. Marvell offers its industry-leading Prestera DX switches to complement the Alaska M 88E2180 device, enabling the most efficient high-density design for high port-count enterprise switches. From 8-port smart and managed switches for the small and midsized business (SMB) industry to 24- and 48-port enterprise access switches, the Prestera DX family offers a complete portfolio of 2.5/5 Gbps switch solutions.
For 802.11ac and 802.11ax WLAN access points, Marvell's ARMADA® embedded processors integrated with the latest ARM®-based technology can connect to a companion device of the Alaska M 88E2180 transceiver, the Alaska M 88E2110 transceiver, to deliver 2.5/5 Gbps bandwidth, meeting the demand for Wi-Fi® network speeds beyond 1 Gbps and the move to 2.5/5GBASE-T.
"The 88E2180 complements the Marvell Prestera® 98DX325x (Alleycat3X) single-chip switch for 24x 2.5GbE with 2x 40GbE or 2x 25GbE uplinks. Together they form the ideal solution for next-generation enterprise Wi-Fi access point uplinks and switching," said Michael Zimmerman, vice president and general manager, Networking Group at Marvell Semiconductor, Inc. "The 88E2180 can also be a key component in a port extender with uplinks of 25GbE each. Marvell is committed to providing best-in-class networking solutions for the next generation of Ethernet access speeds to move data quickly, efficiently and reliably."
The Alaska M 88E2180 Gigabit Ethernet transceiver is uniquely optimized for low-power consumption and design simplicity while delivering a small footprint and exceptional cable performance that exceeds IEEE requirements. These features are designed to help enterprise system vendors avoid the costly investment in engineering resources, greater board real estate utilization and high power budgets that come with alternative solutions.
While most vendors currently offer solutions leveraging 10 Gbps technology for 2.5/5 Gbps operation, resulting in an excessive power overhead, the new Marvell devices are specifically targeted at 5GBASE-T/ 2.5GBASE-T / 1000BASE-T / 100BASE-TX / 10BASE-Te Ethernet designs. The 88E21xx family also includes the Alaska M 88E2110 device, an optimized single-port five-speed multi-Gigabit PHY (supplied in a 7 x 11 mm FCBGA package). Marvell's Alaska M 88E21xx family is highly suited for 802.11ax wireless access points, uplinks on enterprise switches and SFP+ media converters, as well as for emerging applications that can leverage Cat5e cabling such as small cell backhaul, PON residential gateways, high-end personal computers and workstations. These devices support the IEEE 802.3az Energy Efficient Ethernet (EEE) standard, cutting down on power usage and energy costs.
Marvell offers innovative, differentiated storage, networking and connectivity solutions that help its customers move data fast, securely, reliably and efficiently across a wide range of applications, systems and platforms. These solutions will be demonstrated during COMPUTEX in Marvell's private suite, Level One, Residence One, at the Grand Hyatt Taipei in Taipei, Taiwan from May 30 to June 2, 2017.
Marvell's 88E21xx transceivers are sampling now and will be available globally in Q3 2017. For further information on Marvell's Alaska new 88E21xx family, please visit: http://www.marvell.com/transceivers/alaska/
About Marvell
Marvell first revolutionized the digital storage industry by moving information at speeds never thought possible. Today, that same breakthrough innovation remains at the heart of the company's storage, networking, and connectivity solutions. With leading intellectual property and deep system-level knowledge, Marvell's semiconductor solutions continue to transform the enterprise, cloud, automotive, industrial, and consumer markets. To learn more, visit: www.marvell.com.
Marvell Contact
Kristin Hehir
Phone: +1.408.222.8744
Related