Oblong and Oval Bottles suit pharmaceutical industry.
Press Release Summary: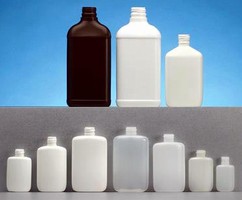 High-density polyethylene Oblong and Oval Bottles are offered as HD Narrow Mouth Oblongs from 1.0-16 oz as well as HD/LD Narrow Mouth Ovals from 0.5-12 oz. Made of polyethylene, polypropylene, PET, or PVC, additional bottles are available in round and square shapes in sizes from 1/8-128 oz for pharmaceutical, nutraceutical, and medical industries. Child-resistant and standard continuous threaded closures are available with all commercial liner materials.
---
Original Press Release:
Oblong and Oval Pharma Bottles
UNION, NJ - The Healthcare Packaging Group, a division of O.BERK Company and KOLS Containers, is featuring a complete line of pharmaceutical quality packaging components including a line of high-density polyethylene Oblongs and Ovals Bottles. These bottles include HD Narrow Mouth Oblongs (1.0- through 16-oz), and HD/LD Narrow Mouth Ovals (0.5- through 12-oz). Additional containers are available in a variety of shapes, - rounds, squares, ovals, oblongs -- in all current commercial resins, - polyethylene, polypropylene, PET, PVC - for the pharmaceutical, nutraceutical, and medical markets. Sizes range from 1/8-oz to 128-oz. A variety of child-resistant and standard continuous threaded closures are available with all commercial liner materials. All components are supported with data indicating FDA compliance, Drug Master Files and USP testing. Visit our informative website at OBERK.com to view these as well as many of our other glass, plastic, metal containers and closure systems. The Healthcare Packaging Group is a total packaging resource for the pharmaceutical, medical, and nutritional markets with expertise as a full-service supplier of glass, plastic, and metal containers and closure systems. HPG is a member of the O.BERK family of packaging companies, with full-service facilities in Union, NJ, Baltimore, MD, West Haven, CT, and a sales office in Mineola, NY. Address all inquiries and publication leads to: Steven J. Nussbaum Healthcare Packaging Group, O.BERK Company (908) 851-9500 marketing@oberk.com
More from Software