Object/Tool Monitors offer minimum detectable activities.
Press Release Summary: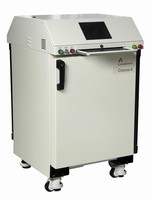 Cronos-4 and Cronos-11 Gamma Monitors contain 6 large volume plastic detectors to achieve virtual 4 pi gamma contamination monitoring of objects/tools when exiting radiological zone at nuclear facility. Software includes capability for calibration vs. weight and user-definable transmission correction factors for activity determination. Offered with built-in weighing scale with removable tray for decontamination, Cronos-4 has internal volume of 129.5 L, while Cronos-11 has 325.1 L.
---
Original Press Release:

Canberra Introduces Gamma Object/Tool Monitors



Meriden, CT, May 6, 2008 - CANBERRA's Cronos-4 and Cronos-11 Gamma Object/Tool Monitors are the latest additions to the industry standard Argos(TM)/GEM- 5(TM)/Sirius(TM) family of contamination monitors. Ideal for nuclear power plants and fuel cycle facilities, the Cronos-4 and Cronos-11 monitors offer minimum detectable activities (MDAs) comparable to much smaller units, as well as a uniform efficiency response. Cronos operation is straightforward, and the same software is used as the rest of the Argos/GEM/Sirius family to simplify training. The software includes the capability for calibration versus weight and user-definable transmission correction factors for specific activity determination.

Based on the robust GEM Gamma Exit Monitor technology, the Cronos-4 monitor has a large internal volume of about 129.5 L (~4.6 cu ft.), while the Cronos-11 has an internal volume two and a half times that of the Cronos-4 at 325.1 L (~11.5 cu ft.).

Both monitors contain six large volume plastic detectors arranged to achieve virtual 4 pi gamma contamination monitoring of objects and/or tools placed in them when exiting a radiological zone at a nuclear facility.

Cronos monitors are equipped with sturdy door hinges and handles to stand up to rigorous daily use in harsh environments. Removable lead ingot shielding, fork lift tine holes and casters with leveling feet ensure simplified transport and relocation. The monitors are also equipped with a sturdy built-in weighing scale, with removable tray for easy decontamination.

A full suite of options are available to complement CANBERRA's Cronos monitors.

Optional Barcode, Proximity or Magnetic card readers may be added to record Personnel and/or Object IDs along with the contamination data being stored. When optional CRemote software is added, CANBERRA's family of object and personnel contamination monitors can be networked and monitored from a central location, reducing manpower requirements and ensuring regulatory compliance.

Additional information on CANBERRA's Cronos-4 and Cronos-11 Gamma Object/Tool Monitors can be found at www.canberra.com.

CANBERRA is an AREVA Company.

AREVA group profile
With manufacturing facilities in 41 countries and a sales network in more than 100, AREVA offers customers reliable technological solutions for CO2-free power generation and electricity transmission and distribution. We are the world leader in nuclear power and the only company to cover all industrial activities in this field. Our 65,000 employees are committed to continuous improvement on a daily basis, making sustainable development the focal point of the group's industrial strategy. AREVA's businesses help meet the 21st century's greatest challenges: making energy available to all, protecting the planet, and acting responsibly towards future generations.
For further information: www.areva.com

Company Name: CANBERRA
Address 1: 800 Research Parkway
City: Meriden
Country: USA
Phone: 203-639-2441
URL: www.canberra.com

Contact Name: Joanna Lipper
Title: Director of Marketing Communications
E-mail: joanna.lipper@canberra.com

More from Software