Oberon, Inc. Announces Product Availability on Amazon.com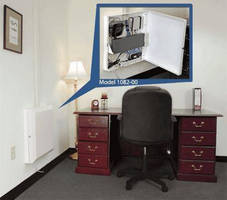 Wireless and Telecom Mounting Solutions Reach Small Businesses and Home Users

State College, PA - Oberon, Inc. has announced that select products from its line of wireless and telecom enclosures will now be available on Amazon.com. Currently available products include the new Home and Office Network cabinet, a wall box for wireless routers and broadband modems, an outdoor NEMA4 Wi-Fi access point enclosure, three popular ceiling enclosures for wireless access points telecommunications and A/V equipment, the 1140/3500i-Skin Vanity Skin for Cisco Access Point, and the 34-ZDUAL-Kit Antennas.

Oberon was established in 1999 and primarily offers products to large-scale corporate technology buyers through national distributors. Oberon products can be found in a wide array of government buildings, educational institutions, hospitals, hotels, and other settings where wireless networking security is paramount and aesthetic solutions are required. The company, which posted 22% growth in 2010, sees its entrance into the Amazon market as a way to open its product line to new markets.

"We are thrilled to have the opportunity to introduce our product line to a wider cross-section of the public," stated Scott D. Thompson, Oberon's President and Chief Engineering Director. "Small businesses in particular will benefit from being able to more easily find and purchase solutions for mounting and securing their wireless networking and telecom equipment. We have also found that sophisticated home users are actively seeking ways to secure their networking and computer equipment in clean, aesthetic ways, which is exactly what our enclosures and other products have been providing in large commercial settings."

Much of the impetus for the move was a result of Oberon's newest line of telecommunications enclosures, particularly the Oberon Model 1082 Home and Office Network Cabinet. Measuring two feet square and extending four inches from the wall, this paintable cabinet with lockable door houses a variety of networking equipment including broadband modems, wireless routers, small network switches, power strips, network storage, external hard drives, and other components. The impact resistant ABS plastic door is virtually transparent to wireless signals at 2.4 GHz and 5 GHz, so the network cabinet is ideal for stowing wireless routers from virtually any vendor. The cabinet can also be used to stow wireless femto-cells.

"For years, people who purchase our products have been telling us they'd like something similar in their personal offices and homes. They want a way to protect equipment from theft, accident, spills, and dust, to keep it easily accessible without the visual and physical clutter of having equipment open to public view," explained Thompson. "The Home and Office Network Cabinet is designed to be flexible, with moveable shelves and hook-and-loop strapping for a variety of configurations. When someone says, 'I wish I had somewhere to stow this,' we want our product to be able to meet that need."

Oberon's new WR-BOX is among the new Amazon.com offerings. This 9" x 14" x 3.5" plastic wall box is ideal for housing a broadband modem and wireless router from most major vendors, and associated cords and cabling. The WR-BOX can be either surface mounted on the wall, or recessed into the wall and attached to wall studs for a more professional installation. Again, the box is made from a plastic material which is virtually transparent to wireless signals, so it is an ideal location for stowing the wireless router.

Also available on Amazon.com are Oberon's plenum rated telecommunications enclosures for installing wireless access points, networking equipment, and A/V equipment (including projectors) in the ceiling.

Oberon products can be found on Amazon.com in the Electronics section under "Oberon, Inc." For Oberon's full product line of secure, convenient, and aesthetic wireless access point and telecommunications enclosures, please call 1-877-867-2312 or see the Enclosure Selection Guide at http://oberonwireless.com/selection-guide.php.

ABOUT OBERON, INC. - Since 1999, Oberon, Inc. has been providing products and services to integrators and end users of wireless LAN "Wi-Fi" network products. Oberon's wireless enclosures and antenna products are used where the RF coverage, infrastructure security, environmental robustness, and aesthetics are paramount in the network design and implementation. Oberon offers ceiling-mounted telecommunications enclosures for Ethernet switches, patch panels, wireless controllers, and other networking and A/V components - ideal for structured cabling and Fiber-to-the-Enclosure (FTTE) deployments.

Oberon's products and services have helped thousands of integrators and end-users in the global healthcare, government, transportation and logistics, education, retail, hospitality, and manufacturing achieve reliable indoor network connection mobility.

More from Optics & Photonics