O-ring Belt is designed for powered-roller conveyors.
Press Release Summary: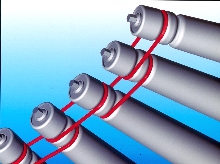 Long-Life HT Red Belt is suitable for curved, inclined and merge conveyor applications that require additional driving force to turn rollers, move loads and maintain smooth operation. It has 25% more urethane than standard 3/16 in. dia belts, yet fits into same powered-roller grooves without protruding above roller's surface, so no refitting is needed.
---
Original Press Release:
New Dura-Belt Long-Life HT Red Belts Provide 38% More Drive Power
Ideal For Curved, Inclined and Merge Conveyor Applications Hilliard, Ohio - Dura-Belt introduces the new Long-Life High-Tension (HT) Red Belt, a new 0-ring belt that provides up to 38% more drive power compared to the company's award winning HT Blue Belt. Designed for use on powered-roller conveyors, HT Red Belts are ideal for curves, inclines and merges, where additional roller drive is needed to maintain smooth operation. HT Red Belts contain 25% more urethane than standard 3/16" diameter HT Blue Belts, yielding greater surface area to make contact with the roller for superior grip and increased drive power. HT Red Belts fit into the same powered-roller grooves as HT Blue belts without protruding above the roller's surface, so no refitting is needed. HT Red and HT Blue Belts can be combined in conveyor applications, with HT Red Belts supplying extra drive in sections requiring more power. For example, curved conveyor sections incorporate tapered rollers, with average diameters larger than regular rollers. The resulting leverage requires more driving force to turn the rollers and move loads. At the same time, rollers in curved sections are laid out like wheel spokes, so belt grooves are not directly aligned. Belts enter the grooves at an angle and rub against the edges, generating additional drag and friction. In other examples, inclines need additional force to move loads uphill, and intersections merge boxes by forcing them onto rollers angled away from direction of flow. HT Red Belts provide the additional drive power to handle all these situations. Made from proprietary Cyclothane "B" urethane, both HT Red and HT Blue Belts offer a working life up to six times longer than standard belts. They maintain greater tension for longer periods, reducing maintenance and replacement costs, and have a high coefficient of friction (COF) for a tight grip on rollers, minimizing slippage and moving heavier loads than standard belts. Applications include high-volume operations such as the U.S. Postal Service, as well as manufacturing plants and warehousing and distribution centers in every industry. HT Red Belts are available in USDA and FDA approved versions. Dura-Belt offers free samples and technical support. Most orders ship within three business days. Dura-Belt manufactures a wide variety of standard and custom high-quality urethane belting and associated products, including endless 0-rings, twisted connectable belts, V-belts, flat belts, spools, idlers, belt installers, and splicing accessories.
More from Software