Nuvectra Completes 2,000 U.S. Algovita® SCS System Implantations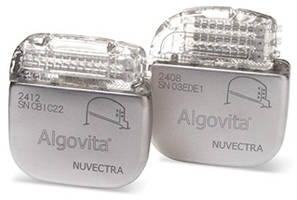 PLANO, Texas, July 10, 2018 (GLOBE NEWSWIRE) -- Nuvectra Corporation (NASDAQ:NVTR), a neurostimulation medical device company, announced today that the Company's Algovita® Spinal Cord Stimulation (SCS) system has been implanted in over 2,000 patients in the U.S. The Algovita SCS System utilizes one of the most robust internal pulse generators used for spinal cord stimulation and patent-protected stretchable lead technology to deliver four unique stimulation modes to patients seeking non-pharmaceutical relief from chronic pain. 
Scott Drees, CEO of Nuvectra, said, "I am excited to recognize Nuvectra's 2,000th U.S. implant as another significant commercial milestone which further demonstrates our team's continued success in driving adoption of our Algovita SCS system. This achievement represents a doubling of U.S. implants in just over six months and reflects the world-class professional service provided by our sales force and the clinical efficacy of our system. We continue to receive positive clinical and patient feedback and look forward to accelerating our growth in the expanding SCS market."
About Nuvectra Corporation
NuvectraTM is a neurostimulation company committed to helping physicians improve the lives of people with chronic conditions. The Algovita® Spinal Cord Stimulation (SCS) System is our first commercial offering and is CE marked and FDA approved for the treatment of chronic intractable pain of the trunk and/or limbs. 
Our innovative technology platform also has capabilities under development to support other indications such as sacral neuromodulation (SNM) for the treatment of overactive bladder, and deep brain stimulation (DBS) for the treatment of Parkinson's Disease. In addition, our NeuroNexus subsidiary designs, manufactures and markets leading-edge neural-interface technologies for the neuroscience clinical research market. Visit the Nuvectra website at www.nuvectramed.com.
Company Contacts:
Nuvectra Corporation 
Walter Berger, COO & CFO 
(214) 474-3102
Investor Contacts:
The Ruth Group
Tram Bui / Brian Johnston
(646) 536-7035 / 7028
investors@nuvectramed.com
More from Thermal & Heating Equipment