Nuclear Qualified Beck Electric Actuators for Modulating Control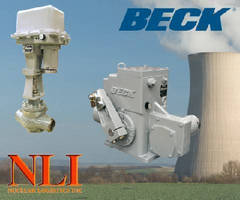 Harold Beck and Sons Inc., manufacturer of Beck electric actuators for control valves and dampers, is pleased to announce its alliance with Nuclear Logistics Incorporated (NLI). NLI, the largest third-party supplier of safety related equipment in the world, will offer nuclear qualified Beck drives as an ideal solution to nuclear valve and damper control needs.

The alliance allows nuclear facilities around the globe to take advantage of the benefits Beck drives have provided industry since 1936. Beck drives are electric actuator ideally suited for consistent, precise modulation of control valves and dampers with little or no maintenance required. Unlike pneumatic actuators, Beck drives will not stick or slip and the performance will not degrade over time or with changing conditions. Unlike, typical electric actuators, Beck drives employ a unique motor design specifically suited for continuous modulating control with repeatable performance to 0.1% of span without any duty-cycle limitations.

A safety qualification program is underway. For more information visit Beck on the web at www.haroldbeck.com or contact the factory at 215-968-4600.

More from Controls & Controllers