NTE Electronics is Master Distributor of Coast Line of LED Flashlight Products!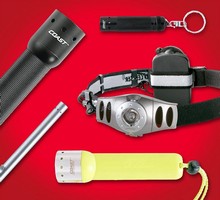 Bloomfield, NJ --- NTE Electronics, Inc. has added the Coast(TM) line of LED flashlights to its list of master distributed products. Coast high quality flashlights use state-of-the-art engineering and a variety of patent pending reflector systems to create the brightest and most energy efficient LED lights available. Incredibly compact, these LED lights provide up to 100 hours of light from one set of batteries and up to 100,000 hours of light from the LED light chip. With sleek metal casings, batteries that are included, and the highest quality LEDs, these flashlights are the new benchmark in the handheld light industry.

This line is perfect for general use, professional use, tactical use, and camping and emergency use.

Some of the industry-leading features include:
o Reflector System technology that results in a broader, deeper and more
powerful beam of light
o More energy efficient - creates more useful light with fewer LEDs than comparable flashlights
o Superior energy conduction using 24 karat gold contacts
o Solid metal casings instead of plastic
o Patented, high quality, high wattage LEDs

In addition to the flashlight line, NTE will also be carrying Coast LED Leflectors(TM) which are a technological advance over halogen bulbs. Using the same Reflector System technology, these extremely energy-efficient bulbs provide up to 50,000 hours of the brightest light. They cost 90% less to operate than standard halogen bulbs which make them ideal replacements for MR16 halogen bulbs up to 20 watts!

For more information on NTE's wide selection of Coast lighting products, please visit www.nteinc.com/coast or call 800-631-1250 or 973-748-5089.

NTE remains committed to offering their customers the widest range of products with unparalleled service. The company supplies the highest quality private label relays, semiconductors, capacitors, resistors, hook-up and speaker wire, heat shrink tubing, and switches, along with such well known brands as: Vishay/Spectrol-U.K., P.E.C .- Canada, KILO, Amphenol RF and Amphenol Connex, Kester, ECG®, Psiber CableTool(TM), CML-IT, Stancor, Provision(TM) and most recently Plato® and Techspray®. For complete product information, visit the website at www.nteinc.com. You'll have access to all NTE catalogs including technical specs and the extensive distributor network listings, as well as NTE's free download of the latest edition of our cross-reference software, QUICKCross(TM) - Version 13.0.