Temperature Sensors / Detectors / Transducers
NTC Thermistor Probe Assemblies offer complete customization.
Press Release Summary: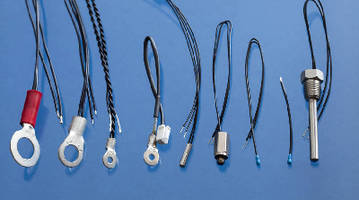 Manufactured from metal oxide ceramic material that is extremely accurate in sensing temperature, NTC Thermistor Probe Assemblies are available in variety of lead wire gauges and insulation thicknesses. Housing options include ring terminal, flag terminal, steel tube, threaded hex, and threaded long tip. Built to customer-specified resistance values, tolerances, beta values, and dielectric voltage breakdown, assemblies can provide temperature sensing and measurement for IGBT chips and heatsinks.
---
Original Press Release:

Ametherm Introduces Customization Capabilities for NTC Thermistor Probe Assemblies



Available With Custom Housings, Lead Wires, Resistance, Tolerances, and More, Devices Provide High-Accuracy Temperature Measurement



CARSON CITY, Nev. – Ametherm today announced its ability to completely customize the company's offering of NTC thermistor probe assemblies to meet the specific needs of any application. Designed and built in as little as two weeks, the units are the ideal choice for high-accuracy temperature sensing and measurement for IGBT chips and heatsinks in welding equipment, plasma cutters, air sensors, electric motors, and HVAC systems.



Ametherm's NTC thermistors are manufactured from a specially formulated metal oxide ceramic material that is extremely accurate in sensing temperature. Utilizing this same material, the company's custom probe assemblies are available in a variety of housings — ring terminal, flag terminal, steel tube, threaded hex, and threaded long tip — and lead wire gauges and insulation thicknesses. Ametherm can build the devices to customer-specified resistance values, tolerances, beta values, insulation resistance, and dielectric voltage breakdown.



"We can customize our probe assemblies in any way the customer wants — including matching or creating any resistance temperature curve — and we offer the highest isolation voltage available," said Eric Rauch, president and CEO of Ametherm. "The key to making custom probes is to have all the requirements up front, so listening to the customer is imperative. Equally important is flexibility. In some cases three or four design changes will be made, but in the end we create a device unique to each customer that can suit their needs better than an off-the-shelf solution."



"Ametherm customers utilize our custom probe assemblies in a variety of applications," said Mehdi Samii, vice president of engineering at Ametherm. "Their use in monitoring the temperature of heatsinks and circuit boards is critical to thermal management in power supplies, motor drives, and HVAC systems. For welding equipment and plasma cutters, their small size and close proximity to IGBT chips allows for faster, more accurate temperature readings and higher chip performance. Whatever the application, we can create the perfect device to deliver the accuracy you need."



For more information on Ametherm's NTC thermistor probe assemblies and custom capabilities, visit ametherm.com/thermistor/. Or call 800-808-2434 (toll free in the United States) or 775-884-2434 from outside the U.S. and Canada.



About Ametherm

Ametherm, headquartered in Carson City, Nevada, was founded in 1994 and specializes in inrush current limiting power thermistors for circuit protection in the power market industry. Ametherm's devices are some of the highest rated in the industry and provide the widest range of inrush current protection available. For more information, visit www.ametherm.com or call 800-808-2434.



Link to datasheet: http://www.ametherm.com/thermistor/



Ametherm Contact:

Lori Morton

Ametherm

+1 775 884 2434

lori@ametherm.com

More from Materials