NOx Burner offers low emissions.
Press Release Summary: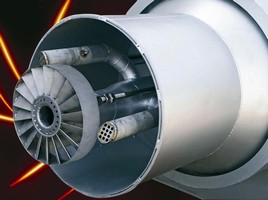 Featuring SMARTflow(TM) modeling, MSC2(TM) ultra-low NOx burner has capacity to fire natural gas, propane, and coke oven gas. Staged gas design introduces fuel into primary and secondary air streams while providing up to 10:1 natural gas burner turndown. Burner offers firing rate of 20-400 mm Btu/hr and CO levels of less than 100 ppm. NOx emmissions and NFPA Class 1, 2 or 3 rating vary depending on which fuel is used.
---
Original Press Release:
Next Generation Low NOx Burner Introduced
With the constantly evolving emissions regulations, Hamworthy Peabody Combustion has decided to build upon the success of their MSC(TM) burner. The development of the MSC2(TM) included the use of Hamworthy Peabody Combustion's SMARTflow(TM) modeling, and the resources of Hamworthy Combustion's Worldleading Advanced Technology Center (14 test furnaces with the capability of testing burner capacities up to 300 MM BTU/hr). The basis for the MSC2(TM) burner's operation is Multi-Stage Combustion (MSC). The staged Q-jet(TM) design introduces fuel into primary and secondary air streams. The primary stream allows for their new STABLEflame(TM) technology, ensuring an ultra-strong root flame for extreme stability. The secondary zone stages the flame to mitigate thermal NOx production. Every aspect of the burner has been reviewed and updated: from air entry to gas and oil nozzles to swirler, all were strategically redesigned to optimize combustion staging, balancing minimal flame temperature with precision flame shaping. Low CO and particulate performance, while maintaining low NOx with lower FGR, has been attained. For liquid fuels, the standard SPIROjet(TM) low-NOx atomizer is utilized; or, as an option, the SPIROjet EX(TM) atomizer offers low NOx performance plus ultra-low atomizing media consumption. Ignition is achieved using Hamworthy Peabody Combustion's highly successful line of Gas Electric ignitors. These have the capacity to fire a wide variety of fuels (natural gas, propane, coke oven gas, etc.) and can be rated NFPA Class 1, 2 or 3, depending upon the application requirements. The highly reliable, self-cleaning, and low maintenance Chentronics' (a Hamworthy Combustion Group company) High Energy Direct Spark Ignitor can also be supplied. This state-of-the-art burst mode ignition, with flashing indicator, allows the operator to observe the ignitor condition during operation. This also eliminates the need for an ignitor fuel train. In summary, the MSC2 is a highly reliable, efficient, low excess air/low NOx burner that can meet the emission reduction needs for today and tomorrow. Throat Diameter: 10 to 52 inches Firing Rate: 20 - 400 MM BTU/HR NOx: < 20 ppm firing Natural Gas or Refinery Gas
< 60 ppm w/o FGR firing Natural Gas or Refinery Gas
< 70 ppm firing No. 2 Fuel Oil CO: < 100 ppm Excess Air Operation: 10% or less, typical Ignitor: Gas-Electric (Propane or Natural Gas) High Energy Direct Spark Fuel Pressure: Oil, 150 psig typical Gas, 10 psig typical Combustion Air Temperature: Ambient to 650oF Oil Atomization: Steam, Air, or Mechanical Auxiliary Ports: Flame Scanner, Sight Port Turndown Ratio: 10:1 Natural Gas/8:1 Oil (Typical) Hamworthy Peabody Combustion Inc. is a world leader in the development and application of industrial combustion solutions. Since its formation in 1920, Hamworthy Peabody has evolved to become a preferred source for efficient, reliable combustion systems, ancillary equipment and comprehensive service support. The company has developed a solid track record of performance in fulfilling the combustion requirements of the power generation, refining, petrochemical and process industries. Reader service inquiries should be forwarded to Hamworthy Peabody Combustion Inc., 70 Shelton Technology Center, Shelton, CT 06484, Phone: (203) 922-1199, FAX (203) 922-9413, E-mail: sales@hamworthy-peabody.com Company Information:
Hamworthy Peabody Combustion Inc.
70 Shelton Technology Center
Shelton, Connecticut 06484
Phone: (203) 922-1199
Fax: (203) 922-8866
Web: www.hamworthy-peabody.com Agency Information:
Tim Hull, President
TDH Marketing, Inc.
8153 Garnet Drive
Dayton, Ohio 45458
Phone: (937) 438-3434
E-mail: tdhull@tdh-marketing.com
More from Fasteners & Hardware