Notebook Computer uses swappable HDD.
Press Release Summary: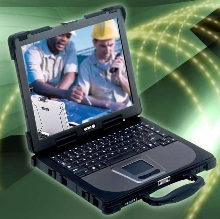 Running on Intel 1.4 GHz Dothan LV Processor with Centrino(TM) Mobile Technology, MobileForce(TM) M220 meets MIL-STD 810F standards for extreme use. Bay 1 accommodates optical drive or second battery, while removable HDD bay enables users to share laptop securely. Protected against ingress of dust and water to IP54 standard, computer features 14.1 in. TFT XGA LCD screen with 64 MB shared RAM. Processor is equipped with up to 2 GB DDR SDRAM; 400 MHz FSB; and 40, 60, or 80 GB HDD.
---
Original Press Release:

New Rugged, Reliable Notebook Computer from Getac Uses Quick, Swappable HDD and Takes a 'Bounce'


~ The commercial M220 complies with MIL-STD 810F, IP54 and IEC529 an IEC68 ~

LAKE FOREST, Calif. (January 4, 2005) - Getac Inc., a leading pioneer in the rugged mobile computing industry, today announced that they will be introducing their newest rugged portable notebook computer at DistribuTECH later this month in San Diego, Calif. Running on Intel's 1.4 GHz Dothan LV Processor, the MobileForce(TM) M220 is a laptop computer that endures the standards set by the military for extreme use and meets the needs of today's "on-the-go" road warriors in fields of sales, field service, utilities, construction, telecommunications, military, police, fire and emergency services (EMS), data collection in fields of science, oil and gas exploration and other mobile workforce applications.

The MobileForce(TM) M220 provides all you would expect of a commercially available laptop computer; with a powerful processor, low power consumption, large storage capacity, lightweight design, and ease-of-use. In addition, the M220 features a versatile Bay 1 and removable HDD bay design. The M220's Bay 1 can accommodate an optical drive, or a second battery. The removable HDD bay allow users to easily remove the HDD, giving users a wide array of advantages such as, allowing multiple users to share laptop but not the HDD, safeguarding/security by removal of the HDD, and general reliability of easily removing the HDD and putting it into another laptop regardless of the original laptop's state.

Improving on an already rugged computer system, the MobileForce(TM) M220 surpasses other industry leading laptops by surviving the IP54 standard, which translates to the ultimate in dust and water resistance because the M220 can handle dust and water jet spray from any directions. With the IP rating of 54, the M220 can handle the worst punishment the environment, and Mother Nature can dish out.

The new notebook computer still meets military standards of 810F, and IEC's extreme standards for durability in surviving three-foot drops, and built to last in virtually any environment of dust/dirt, moisture, vibration, cold/heat (-4/+130º F), altitude, and explosive atmosphere. The M220 also has the option to meet the military stringent 410E standard, which makes the unit battlefield secure from electronic interference.

Going beyond rugged, the M220 is a powerful notebook computer. It features a large, bright 14.1" TFT XGA LCD screen with 64MB of shared RAM that provides vibrant images whether indoors or outdoors. For direct sunlight applications, an optional outdoor viewable display and A/R reflective coating is available. A touch screen option is also available to the on-the-go/in-vehicle users. Behind the display is the latest Intel Dothan LV processor (Pentium M) with Centrino(TM) Mobile Technology for true speed and wireless portability. The 1.4GHz processor is enhanced with up to 2 GB of DDR SDRAM, a 400 MHz FSB, a selection of quick-swap hard disk drives (40, 60, or 80 GB) and optical drives (DVD, CD-ROM, and COMBO DVD/Floppy or CD/Floppy).

The main battery powers the M220 for up to 4 hours of full-out, pedal to metal use. The optional second battery adds two more hours, but the optional vehicle mount lets the unit recharge and function continuously.

Dirt, dust, and waterproof to IP54, the keyboard is designed for true-life field operation. This lets the M220 perform regardless of the weather or real-life spills of coffee, oils, or acids. The optional rubber keyboard withstands acidity up to a pH of 10 while the backlight makes the unit easy to use even in the lowest lit operation.

"The affordable M220 offers our customers flexibility in how they configure the computer day to day," stated Mike Simek, Sales Manager of Getac Inc. "For instance, with swappable drives, police, fire officials, and utility workers will be able to leave the computer in the vehicle but remove the drive at the end of the shift, leaving the computer in the vehicle for the next shift while checking the disk into evidence or their own personal files."

Price And Availability

Up to 2 GB SDRAM, a selection of quick-swap hard disk drives (40, 60, or 80 GB) and optical drives (DVD, CD-ROM, and COMBO DVD/Floppy or CD/Floppy), Intel's Centrino Wireless communication, and durable docking station round out the industry leading computing features for the M220. Available with Windows XP as standard, LINUX optional, the M220 is priced as low as $3,495 in single unit quantities with significant GSA, volume, OEM and ODM discounts available. Full product specifications can be found at www.getac.com/m220.htm. The system will make its North American debut at DistribuTECH 2005, January 25-27, 2005 in San Diego, Calif.

About Getac Inc.

Getac Inc. was founded in 1988 and has been a pioneer since in the rugged mobile computing industry by providing premier notebook and tablet PC solutions to the military, law enforcement, utility, telecommunication, manufacturing, transportation, and mobile workforce industries. The company manufactures four product categories, which are ultra lightweight rugged notebooks, full rugged wireless tablet PC's and full ruggedized notebook computers.

For additional information on Getac Inc. and its products, customers can contact the sales department at 20762 Linear Lane, Lake Forest, CA 92630-7804 · phone 949.699.2888 · fax 949.699.1440 · e-mail at [email protected]. The company is on the World Wide Web at www.getac.com.