Notebook Computer suits frequent travelers.
Press Release Summary: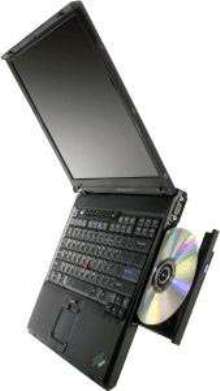 ThinkPad® T42 features Intel 855 PM chipset and is available with 1.5, 1.7, or 1.8 GHz Intel Pentium M processor and choice of Intel PRO/Wireless network connection 802.11b, 11a/b/g Wi-Fi wireless, or IBM 11b/g wireless. Standard memory is 256 or 512 MB, expandable to 2.0 GB. Measuring 1.0 in. thick with starting weight of 4.5 lb, unit features 400 MHz FSB with 333 MHz DDR memory. Active Protection System protects HDD from damage caused by shock.
---
Original Press Release:

New IBM ThinkPad T42 Notebook Computers - Perfect Balance of Performance and Portability


Overview
The ThinkPad® T42 notebook computer is the ideal solution for
frequent travelers who need high performance in a lightweight
package.

Data protection: The IBM Active Protection system, a ThinkVantage(TM) technology, helps protect your HDD from some damage that could be caused by shock. A system board-mounted sensor continuously monitors your ThinkPad notebook for sudden movement, and temporarily parks the HDD read/write head when a fall or similar event is predicted.

New technology
o Intel(TM) Centrino mobile technology on selected models:
- Intel Pentium(TM) M processor family
- Intel PRO/Wireless family
- Intel 855 PM chipset family
o Choice of graphics chipset for clear, crisp images:
- ATI Mobility Radeon 7500 (32 MB)
- ATI Mobility Radeon 9600 (64 MB)
- ATI Mobility FIRE GL T2 (128 MB)
o Choice of Intel PRO/Wireless LAN (Wi-Fi certified based on IEEE 802.11b), IBM 11a/b/g Wi-Fi wireless, or IBM 11b/g wireless
installed on selected models
o Wireless upgradable (selected models)
o Long battery operation: Up to five hours on the six-cell system battery; up to 7.5 hours with the optional nine-cell system battery; and up to 9.5 hours with the nine-cell system battery and Ultrabay(TM) Slim Li-Polymer battery option
o UltraConnect(TM) antenna to help optimize frequency coverage and
performance for improved wireless LAN connectivity around the world when used with compatible options
o Access Connections utility to help manage wired and wireless
communications
o Rescue and Recovery(TM) with Rapid Restore(TM)
o 358.1-mm (14.1-in) TFT displays with 1024 x 768 or 1400 x 1050
resolution
o Microsoft(TM) Windows(TM) XP Professional with selected applications
o Ultrabay Slim for fast and easy hot- and warm-swapping of
selected options

Light and portable: The ThinkPad T42 notebook is 26.6-mm (1.0-in) thin with optimal travel weight starting at 2.05 kg (4.5 lb) with travel bezel. Its approximate dimensions are 26.6 to 31 x 311 x 255 mm (1.0 to 1.2 x 12.2 x 10.0 in). The titanium and magnesium composite covers give added strength.

Robust system manageability: The ThinkPad T42 notebook features
support for IBM Director Agent and is designed to the PXE 2.0
manageability requirements for mobile systems.

ImageUltra(TM) services: Selected ThinkPad notebooks are enabled for ImageUltra.

For more information, visit http://www.pc.ibm.com/us/think/thinkvantagetech/imageultra.html

ENERGY STAR: All models of ThinkPad notebook systems are
designed to meet the EPA ENERGY STAR requirements for using less than 15 watts of power in sleep mode when enabled by the power management software provided with the systems.

Planned availability date
May 25, 2004

At a glance
The ThinkPad T42 notebook features:
o Intel Pentium M processor (1.5 GHz, 1 MB L2 cache), Intel
Pentium M processor 745 (1.8 GHz, 2 MB L2 cache, 400 MHz front-side bus (FSB)), or Intel Pentium M processor 735 (1.7 GHz, 2 MB L2 cache, 400 MHz FSB)
o Intel PRO/Wireless network connection 802.11b, IBM 11a/b/g Wi-Fi wireless, or IBM 11b/g wireless
o Intel 855 PM chipset family
o Sleek profile and light weight
o 400 MHz FSB with 333 MHz double data rate (DDR) memory
o 256 or 512 MB of memory standard, expandable to 2.0 GB
o Rescue and Recovery with Rapid Restore
o ThinkPad HDD shock absorber
o 30 GB (4200 rpm), 40 GB high-speed (5400 rpm), or 80 GB high-speed (5400 rpm) HDD
o 24x-8x DVD or 24x-24x-24x-8x max CD-RW/DVD or Multi-Burner DVD-R drive
o Integrated communications of V.90 modem (V.92-designed), 1 Gigabit Ethernet, UltraNav(TM) dual-pointing system featuring
TrackPoint® and customized touch pad, and Embedded Security Subsystem 2.0, Trusted Computing Group (TCG)-compliant
o Wi-Fi wireless LAN or Bluetooth wireless technology on selected models
o Three-year limited warranty; one-year limited warranty on
battery
o IBM Support Center 800-IBM-SERV (426-7378)

More from Electronic Components & Devices