Notebook Computer includes real-time cryptographic gateways.
Press Release Summary: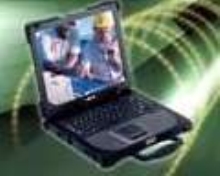 MobileForce(TM) M220 is available with encrypted technology at hardware level, making it impervious to external attacks. Users must manually enter 5-char pre-boot password with over 130 mil combinations to load operating system and view contents of drive. Offered in IP 54 package, computer features 14.1 in. TFT XGA LCD screen with 64 Mb of shared RAM, 1.4 GHz processor with up to 2 Gb of DDR SDRAM, 400 MHz FSB, and choice of quick-swap hard disk drives and optical drives.
---
Original Press Release:

Getac's M220 with Hardware Encryption Stops Hackers, Thieves "Before" They Can Boot the System


The First Rugged Notebook with a 14" Screen, the MobileForce M220 Uses Enova's X-Wall Encrypted Technology at the Hardware Level Using Hardware Cryptographic Keys Defending Sensitive Data ~

LAKE FOREST, Calif. (March 15, 2005) - Getac Inc., a leading pioneer in the rugged mobile computing industry, today announced their MobileForce(TM) M220 is now available with Enova X-Wall 40-bit real-time cryptographic gateways. These embedded gateways are incorporated into the M220's motherboard ensuring that encrypting the data does not degrade the notebook's performance and making the M220 impervious to external attacks by the specialized computing machines and networks used by today's sophisticated hackers. This added security prevents unauthorized viewing or thefts of the laptop's contents for such high security fields as accounting and insurance audits, military, police, fire, IRS and homeland security services, medical, banking and loan processing applications.

The M220 with X-Wall encryption is the ultimate in laptop data security. Once activated, users and potential hackers must manually enter a 5-character alphanumeric pre-boot password with over 130 million combinations in order to load the operating system (OS) and view the contents of the drive. This password only resides in a "Secret Key" on the hard disk drive and never left in the computer registry making the drive seem unformatted if stolen and installed in another computer.

"Too often, laptop users will have highly sensitive or classified material on their computers," said Andy Ho, Product Manager. "With this hardware encryption, the MobileForce(TM) M220 attains Fort Knox-like safety of ALL data. Unlike software encryption, a hacker can't marshal their favorite deciphering programs to brute force the password combinations. So even at 10 manual entries per minute, it would take 200 years to crack the code."

A Truly Reliable, Rugged Laptop

Introduced in January 2005 as the first ever truly rugged laptop with a 14" flat screen, the MobileForce M220 delivers the power of a commercially available laptop computer in rugged package that meets or exceeds IP54, IEC529 and 68, as well as Mil-STD 810F and 410E. The large, bright 14.1" TFT XGA LCD screen has 64MB of shared RAM that provides vibrant images whether indoors or outdoors. For direct sunlight applications, an optional outdoor viewable display and A/R reflective coating is available. A touch screen option is also available.

Behind the display is the latest Intel Dothan LV processor (Pentium M) with Centrino(TM) Mobile Technology for true speed and wireless portability. The 1.4GHz processor is enhanced with up to 2 GB of DDR SDRAM, a 400 MHz FSB, a selection of quick-swap hard disk drives (40, 60, or 80 GB) and optical drives (DVD, CD-ROM, and COMBO DVD/Floppy or CD/Floppy).

In addition, the M220 features a versatile Bay 1 that can accommodate an optical drive, another HDD or a second battery, and it has a secondary removable HDD bay that allows users to easily remove the HDD. The removable HDD provides users a wide array of benefits, such as: allowing multiple users to share a laptop but not the HDD, safeguarding/security by removal of the HDD, and general reliability of easily removing the HDD and putting it into another laptop regardless of the original laptop's state.

The main battery powers the MobileForce M220 for up to 4 hours of full-out, pedal to metal use. The optional second battery adds additional hours, while the optional vehicle mount lets the unit recharge and function continuously.

Price And Availability

Available with Windows XP as standard, LINUX optional, the M220 with Enova X-Wall LX-40 security is priced as low as $3,995 in single unit quantities with significant GSA, volume, OEM and ODM discounts available. Delivery is 3-4 weeks A.R.O. Full product specifications can be found at www.getac.com/m220.htm.

About Getac Inc.

Getac Inc. was founded in 1988 and has been a pioneer since in the rugged mobile computing industry by providing premier notebook and tablet PC solutions to the military, law enforcement, utility, telecommunication, manufacturing, transportation, and mobile workforce industries. The company manufactures four product categories, which are ultra lightweight rugged notebooks, full rugged wireless tablet PC's and full ruggedized notebook computers.

For additional information on Getac Inc. and its products, customers can contact the sales department at 20762 Linear Lane, Lake Forest, CA 92630-7804 o phone 949.699.2888 o fax 949.699.1440 o e-mail at [email protected]. The company is on the World Wide Web at www.getac.com.