North Tonawanda Hall of Fame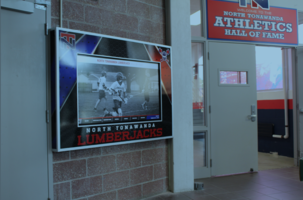 North Tonawanda High School Alumni and school district were looking to migrate their Hall of Fame to an interactive digital experience. NT, like a lot of schools, were dealing with the issue of not having enough trophy cases and wall space for various awards that they have acquired over many years. With our Interactive Digital Hall of Fame System, we take past, present, and future recognition awards (plaques, trophies, etc.) into a consolidated digital experience. With the ambitious goals of the NT Alumni and the creative solution of our design and integration team, EDS designed and implemented our most advanced state of the art Interactive Hall of Fame System. With literally thousands of articles, plaques, videos, trophies, and other recognition memorabilia, the interactive digital HOF has become their central historical repository.
North Tonawanda focused their experience on 4 areas: 1. Fine Arts, 2. Athletics, 3. Wrestling, 4. Basketball
In addition to these areas of focus, EDS implemented a Championship Team Feature that allows the user to easily access State, Sectional, and League Championships. The entire gallery of inductees, recognition awards, fine arts and sport highlights, individual accomplishments, etc. is fully captured in a deep treasure of Digital Media. This Media and Video Library contains indexed catalogs of digital content dating back decades, bringing a rich history of the school to life. 
ADVANCED FEATURES:
First, the Hall of Fame plaques got a total redesign. Instead of just copying the physical plaques word for word and scanning the images, the alumni and our design team worked together to create a customized design for the hall of fame plaques. With this revamped design we added an additional media section to each personal hall of fame plaques that really utilize the digital aspect of our hall of fame system. This allows the user to not only read about the inductee's achievements but also see video highlights, induction ceremony, and new paper articles in their respective sport. The new digital Hall of Fame Plaque enhances the commemoration of the inductee and adds to the user experience. 
Secondly, the Championship Teams section has a streamlined navigation experience that allows the user to find exactly what they are looking for by a series of filters and search tools. Each section displays the championship team with a team photo, date, and title of the championship. Upon touching the image, a pop up appears that gives more detail including the roster, coaches, team stats, and the option for additional media. 
The icing on the cake… a comprehensive Media & Video Library. The system delivers all the features of an advanced CMS for thousands of media and video files. The CMS is capable of being entirely maintained and managed by school staff and administration drastically reducing maintenance costs.
Overall we were very pleased to work with North Tonawanda High School and Alumni. This project allowed us to be creative and test the boundaries of our Hall of Fame System. We always look forward to new and exciting projects ! 
Related