Norgen Biotek Corp Launches New Portfolio for Next Generation Sequencing, including Library Preparation Kits and Full NGS Service Offering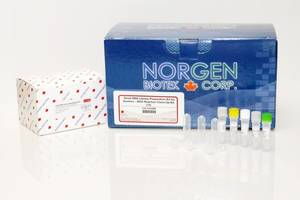 THOROLD, ON, July 12, 2017 - Norgen Biotek Corp., an innovative Canadian biotechnology company focusing primarily on advancing powerful tools for nucleic acid and protein purification and stabilization, today announced the recent launch of their new portfolio of product and service solutions for Next Generation Sequencing (NGS) applications. Norgen has extensive experience with NGS, and has leveraged this expertise to develop a number of new kits and workflows for NGS applications.
First, Norgen has launched the new Small RNA Library Prep Kit for Illumina. This kit consists of all the reagents and components required to generate small RNA libraries to be used for next-generation sequencing on an Illumina platform. This kit has been optimized for low input RNA (0.5-1ng), especially from bodily fluids and liquid biopsy samples such as plasma, serum, blood, cerebral spinal fluid (CSF), urine and exosomes. The simple and rapid workflow allows for the library to be prepared in less than 5 hours, with no gel purification required for selected types of samples. Norgen has also launched complementary products for Small RNA Library construction including NGS-compatible cel-miR-39 spike-in as well as the NGS Library Quantification Kit (for Small RNA-Seq).
In addition, Norgen is also pleased to offer a wide range of NGS services to the scientific community. These include isolation services, library preparation, sequencing and bioinformatics. Norgen is working with many clients, and has extensive experience working with low concentration clinical samples. Norgen's state-of-the-art facility employs multiple Illumina sequencing platforms including MiSeq and NextSeq 500, allowing a full sequencing menu including Small RNA-seq, RNA-seq, 16S Metagenomics, targeted (DNA/RNA) sequencing, exome sequencing and whole genome sequencing.
"This new NGS portfolio represents a very exciting addition to our line of high quality products and service offerings. This focus on NGS is a natural expansion of our leading position in liquid biopsies and low input sample prep. The addition of different Illumina platforms allows us to combine our sample prep expertise with our ISO-certified CLIA-equivalent service offerings" said Dr. Haj-Ahmad, President & CEO of Norgen Biotek.
About Norgen Biotek Corp.
Norgen Biotek Corp., an ISO 15189:2007, ISO 13485:2003 and ISO 9001:2008 registered company, is a privately-held Canadian biotech company committed to providing innovative products and services to the life sciences and pharmaceutical industry. Norgen is applying its proprietary technologies to develop best-in-class products for the purification of NA and proteins, as well as NGS. Currently, Norgen is focused on advancements in tools for companion diagnostic and personalized medicine, as well as developing diagnostics for resources limited areas, point-of-care and home use. Detailed information about the company is available at www.norgenbiotek.com.
SOURCE Norgen Biotek Corp.
CONTACT:
Dr. Yousef Haj-Ahmad,
President & CEO,
Norgen Biotek.
Phone: (905) 227-8848,
Fax: (905) 227-1061,
Email: yha@norgenbiotek.com.
Web Site: http://www.norgenbiotek.com
More from Materials