Nordson Presents FlexTRAK-SHS Plasma Treatment System that Meets CE and SEMI S2/S8 Standards
Press Release Summary: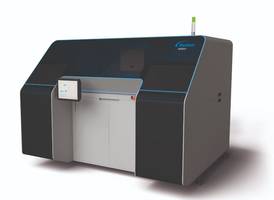 Features a 9.6 L volume F3-S configurable process chamber for increased yield and throughput
Capable of handling simultaneous strip buffering and plasma processing for high chamber utilization
Suitable for applications in pre-wire bond, pre-underfill and pre-mold plasma treatment and removal of oxidation on lead frames
---
Original Press Release:
Nordson MARCH FlexTRAK-SHS High-capacity Plasma Treatment System Provides Enhanced Automation and Production Flexibility
Concord, California, USA - 28 March 2019 - Nordson MARCH, a Nordson company (NASDAQ: NDSN), a global leader in plasma processing technology, announces the introduction of its FlexTRAK®-SHS automated plasma treatment system. The plasma system includes the 9.6-liter (585 in³) large-volume F3-S process chamber that can be configured for larger strips or can treat more strips per cycle, yielding higher throughput and increased productivity for semiconductor and electronics packaging.

The FlexTRAK-SHS system's advanced automation enables high-throughput processing of lead frames, high-density substrates, and other strip-type electronic components. The system handles simultaneous strip buffering and plasma processing for higher chamber utilization. Advanced process controls, interchangeable electrode configurations, and plasma modes give ultimate application flexibility.

The plasma chamber of the FlexTRAK-SHS employs the same architecture and technology as the smaller FlexTRAK platforms for a seamless transition as production demands more capacity. It is capable of processes such as surface cleaning, oxidation removal, organic contamination removal, and surface activation. FlexTRAK-SHS is CE marked and meets SEMI S2/S8 (EH&S/Ergonomics) standards.

Key applications for plasma cleaning include:
Pre-wire bond plasma treatment on semiconductor package substrates and lead frames
Pre-underfill plasma treatment on flip-chip packages 
Pre-mold plasma treatment on semiconductor package substrates and lead frames
Plasma treatment of semiconductor package substrates and lead frames for improved adhesion
Removal/reduction of oxidation on lead frames.
"FlexTRAK-SHS is the latest in Nordson MARCH's TRAK® series of automated plasma systems and is designed to fulfill our customers' requirements to develop new processes to improve product performance and increase productivity while reducing costs," said Daniel Chir, product line manager, Nordson MARCH. "Built upon MARCH's patented plasma technology, the FlexTRAK-SHS is our most advanced automated plasma system, increasing productivity to new levels while providing the same unparalleled treatment uniformity and process consistency as our other TRAK series plasma systems."

For more information, contact Nordson MARCH at info@nordsonmarch.com or visit the website at www.nordsonmarch.com.
About Nordson MARCH
Nordson MARCH designs and manufactures a complete line of award-winning and patented plasma treatment systems that improve product reliability and increase production yields. Delivering over 30 years of continuous innovation Nordson MARCH is a global leader in plasma processing technology for manufacturing semiconductors, printed circuit boards, microelectronics, and medical devices with offices and labs worldwide, including the USA, Europe, Singapore, China, Japan, and Korea. An expert staff of scientists and engineers is available to assist development of plasma processes. Visit Nordson MARCH at www.nordsonmarch.com or social media.

About Nordson Corporation

Nordson Corporation engineers, manufactures and markets differentiated products and systems that dispense, apply and control adhesives, coatings, polymers, sealants, biomaterials, and other fluids, test and inspect for quality, and treat and cure surfaces, and are supported by application expertise and direct global sales and service. Nordson serves many consumer non-durable, durable and technology end-markets including packaging, nonwovens, electronics, medical, appliances, energy, transportation, construction, and general product assembly and finishing. Founded in 1954, headquartered in Westlake, Ohio, Nordson has operations and support offices in nearly 40 countries. Visit Nordson at www.nordson.com, Twitter or Facebook.
For more information contact:
 
Roberta Foster-Smith
Nordson MARCH (International Headquarters)
2470-A Bates Avenue
Concord, California 94520 U.S.A.
Tel.: +1.925.827.1240
Email: info@nordsonmarch.com
Website: www.nordsonmarch.com

Agency Contact:
Andrea Roberts
A R Marketing, Inc.
Tel: +1.858.204.9584
Email: andrea@armarketinginc.com
More from Cleaning Products & Equipment