Nordson EFD Showcases Next Generation Dispensing Technology at the Assembly Show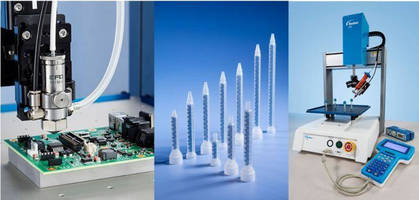 See new valves, automated dispensing systems, and dispensing components in action at Booth 821.



East Providence, RI USA - October 19, 2016 - Nordson EFD, a Nordson company (NASDAQ: NDSN), the world's leading precision fluid dispensing systems manufacturer, will be exhibiting its innovative fluid dispensing systems at The Assembly Show. The event, a top trade event for suppliers, buyers, and users of manufacturing assembly equipment, is scheduled for October 25 - 27 at the Donald E. Stephens Convention Center in Rosemont, IL.



As part of a strong exhibition floor at The Assembly Show, with over 260 exhibitors, Nordson EFD (Booth 821) will feature live demonstrations of several highly precise, repeatable fluid dispensing solutions for manufacturing assembly.



New solutions include:



781Mini™ spray valve



R Series 4-axis automated dispensing system



OptiMixer™ square static two-component mixer



The 781Mini spray valve uses Low Volume Low Pressure (LVLP) technology with an innovative nozzle design for achieving consistent spray patterns with precise edge definition and area coverage as narrow as 1 mm (0.04") wide. It is well suited for applying of low-to-medium viscosity fluids in a broad range of industries, including life science and electronic assembly.



Nordson EFD will also demonstrate its 4-axis R Series automated dispensing system, which is easily programmed by means of custom TeachMotion™ Teach Pendant software. It delivers outstanding positional repeatability at ±8 µm for higher throughput. This system also simplifies recalibration when changing dispensing tips.



To explore the capabilities of these and many other fluid dispensing solutions, don't miss Nordson EFD in Booth #821 at The Assembly Show.



In addition, experienced application specialists from Nordson EFD will be presenting "Smaller, Faster, More Accurate - Tackling Today's Toughest Dispensing Headaches" at 1 p.m. on Wednesday, October 26 in the Showcase Theater.



For more information visit



Nordson EFD on the web at www.nordsonefd.com/PICO

email info@nordsonefd.com

call +1 401.431.7000 or 800.556.3484.



For Nordson EFD LLC sales and service in over 40 countries, contact Nordson EFD or go to www.nordsonefd.com.



About Nordson EFD



Nordson EFD designs and manufactures precision fluid dispensing systems for benchtop assembly processes and automated assembly lines. By enabling manufacturers to apply the same amount of adhesive, lubricant or other assembly fluid to every part, every time, EFD dispensing systems are helping companies in a wide variety of industries increase throughput, improve quality, and lower their production costs. Other fluid management capabilities include high-quality syringe barrels and cartridges for packaging one- and two-component materials, along with a wide variety of fittings, couplers and connectors for controlling fluid flow in medical, biopharmaceutical and industrial environments. The company is also a leading formulator of specialty solder pastes for dispensing and printing applications in the electronics industry.



About Nordson Corporation



Nordson engineers, manufactures and markets differentiated products and systems used for dispensing and processing adhesives, coatings, polymers, sealants and biomaterials; and for managing fluids, testing and inspecting for quality, treating surfaces and curing. These products are supported with extensive application expertise and direct global sales and service. We serve a wide variety of consumer non-durable, consumer durable and technology end markets including packaging, nonwovens, electronics, medical, appliances, energy, transportation, building and construction, and general product assembly and finishing. Founded in 1954 and headquartered in Westlake, Ohio, the company has operations and support offices in more than 30 countries. Visit Nordson on the web at www.nordson.com.



For more information contact



Gaylen Whittier (agency)

IDEAgraphics, Inc.

+1-401-438-9727

gaylen@ideagrfx.com



Nordson EFD



Global

NatalieTomasso

+1-401-431-7173

natalie.tomasso@nordsonefd.com



Europe

+44 (0) 1582 666334

europe@nordsonefd.com



China

+86 (21) 3866 9006

china@nordsonefd.com



Japan

+81 (03) 5762 2760

japan@nordsonefd.com



SEAsia

+65 6796 9522

sin-mal@nordsonefd.com



Media Contact



Natalie Tomasso

Marketing Communications Specialist

+1-401-431-7173

natalie.tomasso@nordsonefd.com



Nordson EFD

40 Catamore Boulevard

East Providence, RI 02914

www.nordsonefd.com.

More from Machinery & Machining Tools