Nordson DAGE Announces Latest Order for XM8000 and Attendance at IWLPC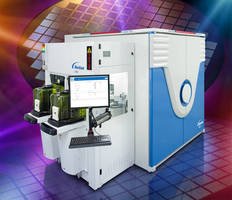 • The Fastest Fully Automatic X-ray Metrology tool for Wafer Bumps and TSV's



Aylesbury, Buckinghamshire, UK – Nordson DAGE, a division of Nordson Corporation (NASDAQ: NDSN), announces its most recent order from a major customer in the semiconductor industry for its XM8000 wafer X-ray metrology tool that will be used for the automatic measurement of wafer bumps and through silicon vias (TSVs) by using 2D and 3D x-ray inspection methods.



David Bernard, Business Manager Automated X-ray Systems, commented, "The XM8000 represents an entirely new paradigm using Nordson DAGE's award winning X-ray technology in the heart of semiconductor manufacture, and that is why our system was selected for this project. By offering full, nondestructive and automatic metrology, not only can the XM8000 measure the level of voiding in bumps and TSVs, something that is invisible to other test methods, but it also can measure their visible critical dimensions. Furthermore, it can do all this substantially faster and with greater precision than existing systems."



For more information see www.measuringtheinvisible.com, www.nordsondage.com or visit the Nordson DAGE booth at the upcoming International Wafer-Level Packaging Conference (IWLPC) taking place November 11-13, 2014 at the DoubleTree by Hilton Hotel, San Jose, CA.



About Nordson DAGE

Headquartered in Aylesbury, UK, Nordson DAGE is a unit of the Nordson Corporation and manufactures and supports a complete range of award winning digital X-ray inspection systems and bond test equipment for the printed circuit board assembly and semiconductor industries. For more information, visit www.nordsondage.com.



About Nordson Corporation

Nordson Corporation engineers, manufactures and markets differentiated products and systems used for the precision dispensing and processing of adhesives, coatings, polymers and plastics, sealants, biomaterials and other materials and for fluid management, test and inspection, UV curing and plasma surface treatment, all supported by application expertise and direct global sales and service. Nordson serves a wide variety of consumer non-durable, durable and technology end markets including packaging, nonwovens, electronics, medical, appliances, energy, transportation, construction, and general product assembly and finishing. Founded in 1954 and headquartered in Westlake, Ohio, the company has operations and support offices in more than 30 countries. Visit Nordson on the web at www.nordson.com.

More from Software