Nordfab Ducting Improves Clamp with New Overlap Design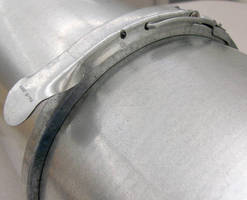 Thomasville, N.C. - Nordfab Ducting, the originator of clamp-together ducting, has introduced its new, tighter-fitting Quick-Seal Clamp.

The innovative overlap design creates downward pressure on all 360 degrees of the seal. This uniform force creates an even tighter seal, especially for low positive-pressure systems.

"Tighter seals provide greater savings," says Tom Ballus, Nordfab division manager. "With the Quick-Seal Clamp, air leakage is minimized, and fans don't have to work as hard. Customers gain significant energy savings compared to other clamping products."

The Quick-Seal Clamp also features a longer, stronger handle to improve leverage for easier clamping. It is manufactured in the United States and is standard on all Quick-Fit ducting orders.

Nordfab is the world's largest supplier of clamp-together ducting for dust, mist and fume collection. With facilities on both coasts, Nordfab offers quick delivery and lower shipping costs.

For more information, visit www.nordfab.com or call 1-800-532-0830.