Non-Sparking Torque Wrench can be used in hazardous areas.
Press Release Summary: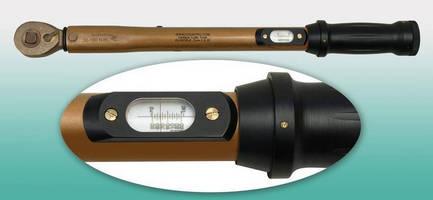 Made from Copper-Beryllium, Non-sparking Torque Wrench eliminates risk of sparks at sites where explosive atmospheres may be present. This non-magnetic and corrosion-resistant tool, offering click mechanism for turning clockwise and counterclockwise, has clockwise torque range of 22–120 lb-ft, ½ in. square drive, and 18 ¼ in. long lever handle. Design enables use in Ex Zones 0, 1, 2, 20, 21, and 22, and torque calibration can be monitored via visual torque indicator.
---
Original Press Release:
Non-sparking Torque Wrench for Hazardous Zones Requiring a High Level of Protection
CS Unitec has introduced a new Non-sparking Torque Wrench to its line of Safety Tools. Made from Copper-Beryllium to eliminate the risk of sparks at sites where explosive atmospheres may be present, it can be used in Ex Zones 0, 1 and 2 and 20, 21 and 22. In addition to non-sparking, the wrench is non-magnetic and corrosion-resistant.

The Torque Wrench has a 1/2" square drive and an 18-1/4" long lever handle. It features a "click" mechanism for turning both clockwise and counterclockwise. This wrench has a clockwise torque range of 22 to 120 ft./lbs. (30 to 160 Nm). The torque calibration can be monitored with a visual torque indicator. The Torque Wrench is ideal for tightening nuts, bolts, valves and other assemblies that require precise torquing in explosive atmospheres.

Copper-Beryllium alloys meet OSHA and ATEX regulations for safe use in Ex Zones where hazardous, flammable or combustible vapors and liquids (Zones 0, 1, 2) or dust (Zones 20, 21, 22) may be present. Appropriate applications include oil drilling platforms, petrochemical refineries, gas installations, nuclear power plants, sugar refineries, grain silos and other industries where non-sparking or non-magnetic safety tools are required.

Forged for the highest quality in hand tools, CS Unitec's line of non-sparking safety tools consists of hammers, flange wedges, striking wrenches, impact sockets, screwdrivers, shovels and other hand tools. Each tool is laser engraved for the proper Ex Zone classifications indicating the safety zones for which it can be used.

CS Unitec, Inc.
22 Harbor Avenue
Norwalk, CT 06850
P) 800-700-5919 / 203-853-9522
F) 203-853-9921
E) info@csunitec.com
W) www.csunitec.com
Contact This Company Download Spec Sheet
More from Cleaning Products & Equipment