Non-Reclosing Pressure Relief Valve features 3 sec reset.
Press Release Summary: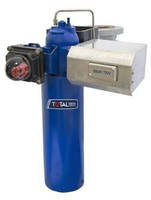 Able to be reset in seconds from field or remotely, model 6820 Total Relief Valve (TRV) acts as high flow capacity relief valve or shutdown device to help prevent downtime and catastrophic accidents. Product does not rely on prediction of material failures or require external power, and performance is not impacted by system backpressure. Allowing complete control of valve set pressures at ±2%, valve features set pressures from 3–1,500 psi as well as 150, 300, and 600 flange ratings.
---
Original Press Release:

Total Valve 6820 TRV, a Game Changer in Relief Valve Safety



BROKEN ARROW, Okla. -- Total Valve Systems introduces patented technology in its new model 6820 TRV, the first non-reclosing pressure relief valve that can be reset in seconds from the field or remotely. Related product model 6220 is a shutdown version that shuts off when the valve reaches the set pressure or is triggered remotely.



The multi-year project by Total Valve's engineering department used the latest valve design technologies to develop the Total Relief Valve (TRV) module, considered the "brain" of the system. The TRV was awarded a design patent and has been ASME "UD" certified in accordance with the requirements of the National Board.



The proprietary TRV system includes the TRV module, actuator and isolation valve, making it a reliable and accurate high flow capacity relief valve or shutdown device to help prevent downtime and catastrophic accidents. The system offers superior reliability for non-reclosing relief devices because it does not rely on the prediction of material failures like rupture discs, shear pins and buckling pin devices.



No external power is required for 6820 TRV operation and its performance is not impacted by system backpressure. Module operation allows for complete control of valve set pressures at +/-2 percent. Key options for dual sensing lines and fluid media filters provide industry-leading system reliability. The system is ideal for gas service where dirt, hydrates and high moisture levels occur in the fluid media.



Triple-offset valves are standard due to their performance and reliability across the spectrum of temperature, pressure and sealing classes. They operate from -450 to 1500 degrees Fahrenheit in accordance with valve specifications. Its non-rubbing seat design offers a bubble-tight sealing performance.



Industry-proven actuation systems are integrated to the valve and TRV module. The system's modular design allows for shorter delivery times and can include the use of special valve features such as accumulator tanks, thermal protection plugs and customer-specific devices. Additional systems can be added optionally to the actuator for PLC and control room remote operation. Operation can be paired to data acquisition systems for monitoring set pressures and relief points.



Resetting the 6820 TRV is quick and easy. A test connection port affords easy in-the-field testing. Manually applying pressure to the module's reset handle resets the valve in as little as 3 seconds.



The device is a full-face design with pipe flange bolting for lug, wafer and short pattern configurations. Flange ratings are 150, 300 and 600. Set pressures are from 3-1500 psi.



The U.S. designed and manufactured system is available in two basic configurations: 6820 TRV-SP for single positive sensing line pressure applications, and 6820 TRV-DP for positive differential pressure applications. The system can also be used with gate and ball valves. When coupled with a ball valve, it has pigging capabilities and provides overpressure or shutdown protection.



To see an informational video about the 6820 TRV and for more specifications on the product, visit TotalValve.com.



CONTACT: Mike Lybarger, mike@totalvalve.com., 918-258-7035

More from Software