Rubber / Foam Cutters and Cutting Machinery
Non-Motorized Foam Cutter reduces jobsite noise and dust.
Press Release Summary: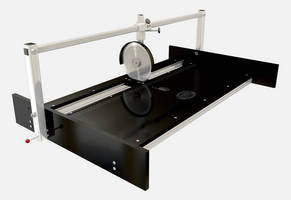 Magnum Rigid Foam Cutter(TM) provides insulation installers with non-motorized cutting solution for rigid foam insulation sheeting, reducing jobsite noise, electricity requirements, and foam dust. Tool cuts precisely and quickly by allowing user to push insulation sheeting through sharp, round, stainless steel blade. Pressure of foam sliding across cutting table turns blade, eliminating need for motor. Features include aircraft grade aluminum frame, steel tracks, and resin-coated table.
---
Original Press Release:
Bullet Tools Enters the Insulation Category with its New Magnum Rigid Foam Cutter(TM)
Revolutionary new "green" tool provides hassle-free cutting solution never seen before. HAYDEN, ID - Designed to provide insulation installers with a fast, easy, non-motorized cutting solution for rigid foam insulation sheeting, Bullet Tools will introduce its revolutionary Magnum Rigid Foam Cutter(TM) at this year's ICAA show in Dallas October 4-6. This new tool cuts precisely and quickly by allowing the user to simply push the insulation sheeting through an extremely sharp round blade, using the pressure of the foam sliding across the cutting table to turn the blade, eliminating the need for a motor. In addition to its non-electric "green" feature, this technology eliminates most jobsite foam dust and motor-driven blade noise, giving installers a very safe, fast, easy, clean and quiet solution to the traditionally dusty, difficult, noisy task of cutting rigid foam insulation sheeting. The Magnum Rigid Foam Cutter(TM) features a long-lasting stainless steel blade that is easily maintained with a sharpener that's included in the package. It also features a laser-etched ruler that provides exact measurements for a perfect cut every time. Due to its aircraft grade aluminum frame, the tool weighs less than a table saw and collapses for easy transportation and storage. The aluminum frame, along with its steel tracks and resin-coated table, make it both a heavy-duty and resilient tool. Bullet Tools, known globally for its revolutionary, "green" cutting solutions, decided to expand into the rigid foam insulation category after seeing a need for improved insulation cutting. "Rigid foam is an excellent insulation material and is becoming a popular option for energy efficiency as well as in-floor heating in both residential and commercial remodeling and new construction," explained Ben Toews, President of Bullet tools. "The traditionally-used utility knife 'just doesn't cut it' so we began developing a simple, accurate solution that would be safe and easy to use and improve overall jobsite performance." Based in Hayden, ID, Bullet Tools is a manufacturing company focused on developing revolutionary cutting solutions designed to improve efficiency, safety and accuracy in the flooring, siding and insulation industries. Founded in 2000 by Dalen and Mary Gunn, Bullet Tools is recognized globally for its contribution to "green" installation solutions that rely on creative engineering rather than electricity. Magnum Rigid Foam Cutter(TM) and Bullet Tools(TM) are trademarks of Gunntech Manufacturing, Inc. For more information about Bullet Tools and ways to cut rigid foam insulation faster with less mess and noise and without electricity, visit www.bullettools.com or call 800-406-8998
More from Electrical Equipment & Systems