Non-Isolating Transmitters are loop powered.
Press Release Summary: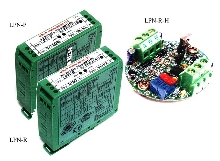 LPN-P 3-wire potentiometer provides LED indication of loop current, reverse polarity protection, and corrosion proofed circuit boards and components. LPN-R linearized 3-wire RTD transmitter features Pt100 RTD standard input and 40-200mV output test signal. LPN-R-H linearized in-head, 3-wire transmitter fits RTD connection heads. Compact DIN rail mount enclosure facilitates installation.
---
Original Press Release:
Low Cost LPN-Series Loop Powered Non-Isolating Transmitters

To complement its Line Powered Transmitters, VESPO MARKETING has introduced the LPN-SERIES of Loop Powered, Non Isolating Transmitters. These units are available in three models - the
LPN-P Potentiometer, The LPN-R RTD Transmitter, and the LPN-R-H in head RTD Transmitter.

The 3 Wire LPN-P Potentiometer features High Accuracy, LED Indication of Loop Current, and Reverse Polarity Protection. This unit also includes Corrosion Proofed Circuit Boards & Components by Isonel 642 (with the exception of Terminals & DIP Switches). A Compact DIN Rail Mount Enclosure provides for easy installation.

The Linearised 3 Wire LPN-R RTD Transmitter features High Accuracy, PtlO0 RTD Standard Input, Linear with Temperature, and 40-200mV Output Test Signal. The unit is available in standard or
special calibration, with Compact DIN Rail Mount Enclosure and Corrosion Proofed Circuit Board and Components (with the exception of Terminals and DIP Switches).

The LPN-R-H is a Linearized In-Head 3 Wire RTD, Input to 2 Wire 4-200mA Loop Powered Output Transmitter, which fits RTD Connection Heads. It provides High Accuracy, LED Indication of Loop Current, and Reverse Polarity Protection. This unit is also available in standard or special calibration and includes Corrosion Proofed Circuit Board and Components (with the exception of Terminals and DIP Switches). The Compact DIN Rail Mount Enclosure ensures easy installation.

For additional information, technical specifications, or pricing, please visit our website at www.VESPO.COM, send an E-mail to: controls@vespo.com, use our toll free telephone number, 1-800-49-VESPO, or send a fax to 1-800-36-VESPO.
PO. Box 60, Thompson Ridge NY 10985 800-49-VESPO FAX 800 36-VESPO
E-mail: controls@vespo.com Website: www.vespo.com
More from Electronic Components & Devices